Argus has several new Hunter pets to tame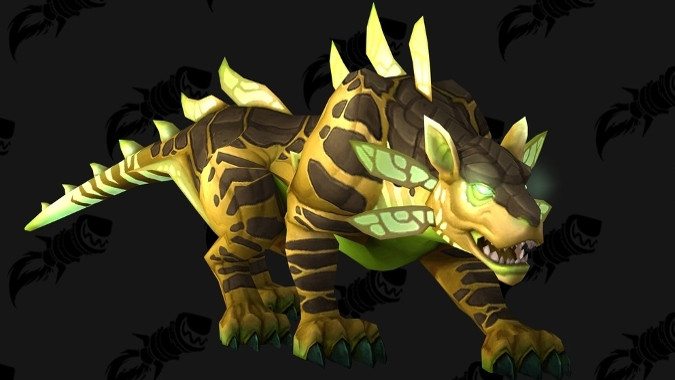 Sometimes it feels like the people at Wowhead and Petopia are out to get me. See, I'm married to a Hunter. She pretty much never players her alts. She's been playing the same Hunter since launch day 2004, and she gets so excited when new pets become available to tame. So every time a post like this comes out, I clench up, because I know what I'll be doing with my time for a while.
There are a lot of new pets coming in patch 7.3 for your aspiring Hunters to get out there and tame. Falling under the larger umbrella of new pets are the following:
Mana Rays, which are part of the Nether Ray family of Hunter pets.
Marsuul, which are like fel varmints, and part of the rodent/porcupine family.
Panthara, which you may recognize from the recently released Twilight pet and Luminous Starseeker mount.

There's a bit of a mystery right now about how they're supposed to be tamed — currently they seem to just vanish if you approach them.

Talbuks, which are in the Stag family of Hunter pets.

Apparently the Argus versions have slight variations to their horns to add variety if you're looking to tame one.

Not quite "new" new, but new for the patch are also some pretty normal-looking boar models people have found, but they don't seem to originate from Argus.
Of those categories, there are quite a few of these pets to potentially tame — by that I mean each creature appears to have multiple skins, with the boars (which have two skins) as the only exception. As far as the others go, there are six Mana Ray skins, five Marsuul, six Panthara, and nine Talbuk — however, right now we don't know if all will be tameable once patch 7.3 drops, or if only some will.
If you're desperate to figure out which ones are currently known to be tameable, however, Petopia has a list of Argus models, sorted by which are tameable and which are not tameable (at least yet). And if anyone figures out where that boar is from, please let me know — I'm desperately curious if Argus has some variety of gigantic boars on it.