Are you prepared for the Trial of Style?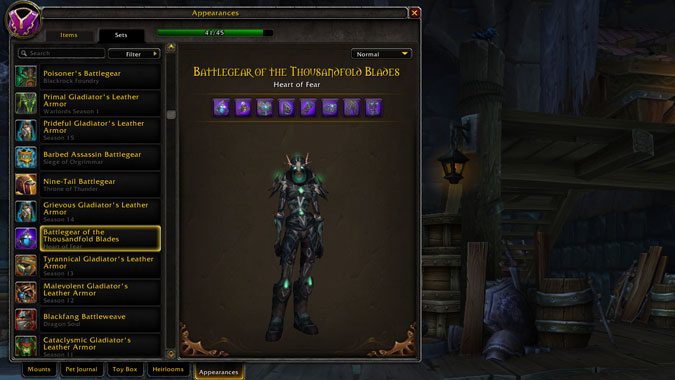 Transmog addicts rejoice — the Trial of Style is making its debut in World of Warcraft today! The Trial isn't your usual mini-holiday, it's a full fledged event that runs through Monday and includes in-game prizes. Transmog prizes, of course, purely cosmetic rewards. Compete against your fellow players to create beautiful transmogs and earn enough votes to snag a prize. I don't know about you guys, but I've been looking forward to this one.
I'm an avid collector. I've made it a point to try and fill out my Wardrobe as much as possible. This wasn't really for the event in particular — I just like creating transmog sets. The more options I have, the better. When they announced the Trial of Style, it felt like all that collecting was being rewarded somehow. I'm definitely not the only one out there collecting armor — I've sold a lot of transmog gear on the AH. The Wardrobe cut down on demand a little bit, but pretty pieces still sell fairly regularly. Basically, transmog is still ridiculously popular, and it's cool that they're doing an event designed for it.
Since the rewards are cosmetic and don't actually influence gameplay in the slightest, you can skip this if it's not your cup of tea. You won't be missing out. But I'm curious — how many of you will be participating in the Trial of Style? Are you happy Blizzard is doing something different with transmog? Are you going to try and collect the rewards? At the moment, it looks like this is an annual event — are you hoping they'll offer it more frequently? Have you been collecting sets and armor pieces for it? Are you prepared for the Trial of Style? Or is it something you're going to ignore?