Kel'Thuzad's Hero Spotlight will give you chills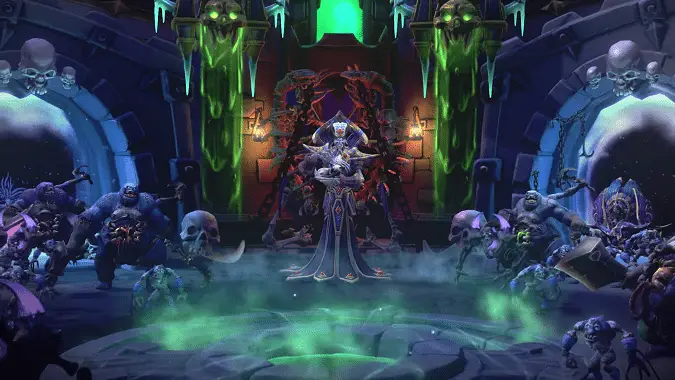 No, that title was not actually intended to be a pun — Kel'Thuzad's arrival in the Nexus is coming, and his Hero Spotlight really is legitimately chill-worthy. We already knew what his standard abilities would be thanks to his hero page, but the video gives us a much clearer picture of how they'll work together and look in action. Plus, we get an idea of some of his talents, which seem especially deadly.
Originally, seeing Kel'Thuzad's kit made me think he'd be less about burst damage and more about disrupting the enemy team. The latter is still true, but his description at the Gamescom presentation was given as a "burst Mage" — and his hero spotlight certainly makes that feel like the case. It seems that players who can properly combo his abilities will not only be able to make enemy escape impossible, but also result in their quick demise.
See for yourself:
It will be interesting to see how Kel'Thuzad fares against melee heroes with powerful chase. His hero spotlight specifically points out that he excels at fighting heroes from a distance, but doesn't exactly show him up against melee heroes too often (it is a spotlight after all). All the same, seeing talents like the Phylactery of Kel'Thuzad, Glacial Spike (which has its own collision), Death Chill, and The Damned Return in action as the Wrath of the Lich King cinematic music reaches its crescendo… It really did give me chills.
Archlich of Naxxramus, The Lich Lord of The Plaguelands, Commander of The Dread Necropolis, Cat Owner, Master of the Cold Dark, Founder of the Cult of The Damned, Former Member of the Council of Six, Creator of the Abominations, Betrayer of Humanity, Summoner of Archimonde, Hearthstone Enthusiast, and Majordomo to The Lich King — this is Kel'Thuzad. And he's ready to fight.
Kel'Thuzad will be available on the PTR starting next week, with an official release likely to follow one-to-two weeks after.