Mr. Bigglesworth is spotted in the latest Heroes in-development video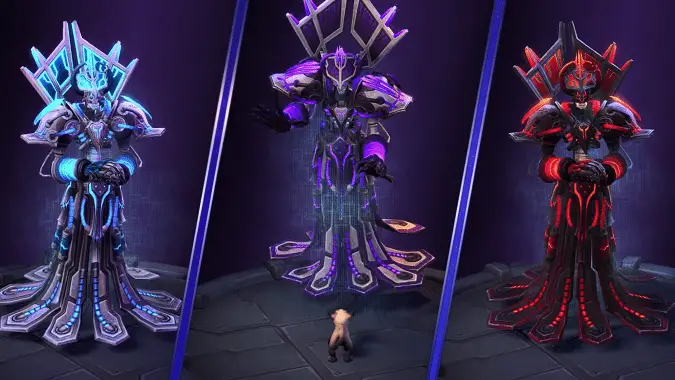 The Call of Kel'Thuzad event and titular character hit the Heroes of the Storm PTR tomorrow, and although we've had a pretty good idea of the skins we'll be getting alongside the event, we didn't know all the color variants and other cosmetic items coming with the Kel'Thuzad patch. However, thanks to the latest In Development video, we know just exactly how awesome all the new skins, spray, icons, and other cosmetics will be — oh, and we have a Mr. Bigglesworth sighting!
Check out the video below:
While Kel'Thuzad's default skin variants aren't as distinguishable as I might like, Star Lich Kel'Thuzad has more than enough appeal to make up for that fact. But if Kel'Thuzad (somehow) isn't your thing, there's plenty more to like about his patch. Namely, all of the awesome Death Knight Sonya skins.
Not only is she getting several color variants (helloooooo, red variant), she's also getting versions with and without a helmet, which is always appreciated. Not enough badassery for ya? Theramore Jaina is coming to the Nexus, and she's not messing around. I guess I'm a red person this week, because the red variant of this one is also my favorite.
On top of all that, we're getting several new sprays and portraits, many of which are themed around Undeath and cold. Also, there's both a Mr. Bigglesworth spray and portrait, which basically confirms this as the best Heroes patch ever.
And finally, it looks like we'll have an undead horse to ride around on, several new color variants of existing heroes' skins, and, if you've ranked high enough in your Seasonal placement matches before it ends next week, an Earthbreaker Grizzly mount.
Whew! There's almost too much to keep track of with the Call of Kel'Thuzad — but that only makes it all the more exciting!