Blizzard Arena Los Angeles now open for esports events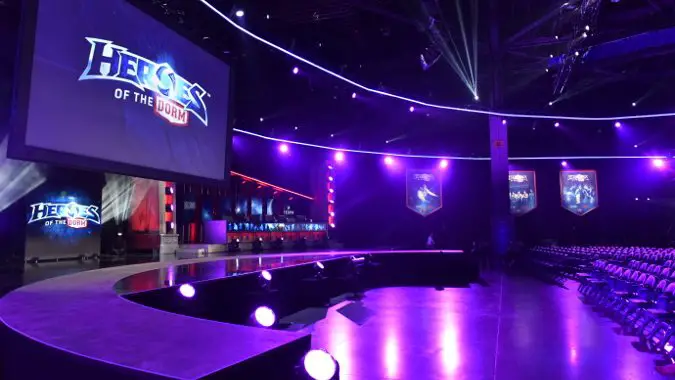 Burbank Studios has been a name in the entertainment industry for decades. Here's a not at all dated video from the 80's of a tour of the studios, given by Maria Shriver, for instance. Blizzard just announced that they will be the latest tenants of a building which housed Tonight Shows and Saved By The Bell. Blizzard Arena Los Angeles is just the next step in building Blizzard's multimedia esports empire.
After seeing the structure and polish of the first season of HGC, this acquisition makes total sense. Blizzard was already renting out a small room in some studio backlot for their weekly cast of Heroes esports. This led to some memorable production issues, like that constant high pitched hum through Heroes of the Dorm. Like Lucio says, that's how you get tinnitus. Blizzard will now have much tighter control over logistical issues like that.
This esports writer hopes the new studio will solve some scheduling issues, as well as give more events an opportunity to be broadcast. Blizzard esports tend to be feast or famine. Either I'm trying my best to scrape together random events, or there are several championships happening at once. Now that they're sharing the space, including things like parking and streaming bandwidth, hopefully they'll at least alternate weekends. However, the release specifically notes several different rooms for broadcast within their space, so it's likely I'll end up being even more overworked. If that's the outcome, I definitely won't complain.
You can already buy tickets for upcoming events, like the championships of Season 1 of Overwatch Contenders. That Overwatch Contenders championship will be the first event in the new Blizzard Arena Los Angeles. They plan on using this venue in the lead up to BlizzCon, to play out some of those early bracket games of HGC and HCT. Of course, no mention of Blizzard and esports would be complete without mentioning Overwatch League. This announcement settles the ongoing question of where the first season's games would take place. Also, if you plan on attending a game there you may want to budget for some swag. There will be a permanent Blizzard gear store on site, though the inventory will be rotated based on the events.