BlizzCon 2017: Junkertown panel talks about creating a new kind of cinematic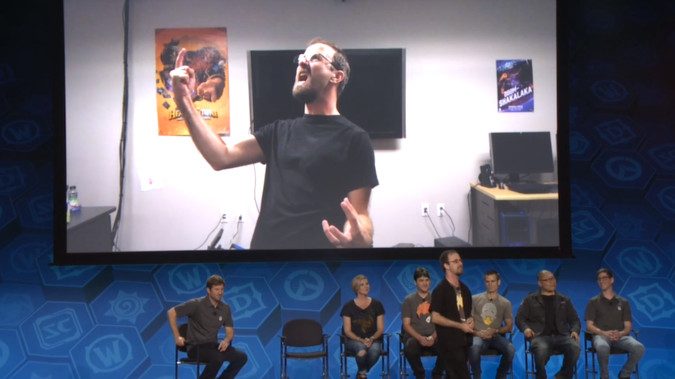 Some panels are the kind that don't drop a lot of crunchy information. Today's cinematic panel focused on Junkertown: The Plan, and it didn't have stuff like new races or heroes or anything like that. What it has is a detailed exploration of how Blizzard asked two teams — the Overwatch developers and the established in-game cinematics team — to create something, and how it required those two teams to basically invent everything you see while watching it.
Terran Gregory had to forego storyboards (and even a script), instead getting up in front of Michael Chu and Jeff Kaplan to act out what he had in mind for the short. Julie Anne Brame and Ryan Greene had to bridge the gaps between the Overwatch engine and the needs of the in-game cinematic team, then Hunter Grant had to get the animation done using the new tools created by Julie Anne and Ryan. This entire panel feels like a paean to two groups of people coming together to do something truly extraordinarily strange.
Now, it's actually an amazingly fun cinematic, and I'm very glad that these teams all got together to work on this thing. But it's frankly astonishing to me that they had to develop practically everything in order to make this cinematic — a means to capture frames from the game, a means to animate the characters and render them without accidentally breaking the virtual camera, even slowing the game's framerate down in order to take one buffer at a time.
Blizzard's been doing in-game cinematics in World of Warcraft for years and years, and we've all been entertained and excited by them. But the Junkertown: The Plan cinematic combined all of the fun of our in-game cinematics with the kind of frenetic energy that not only comes from featuring Junkrat and Roadhog, but also from doing so with a cinematic process that basically required them to invent the entire thing from scratch.
The end result was definitely worthwhile and I hope they do more.