Allied races and their Heritage Armor – what it is and isn't
Click here for more photos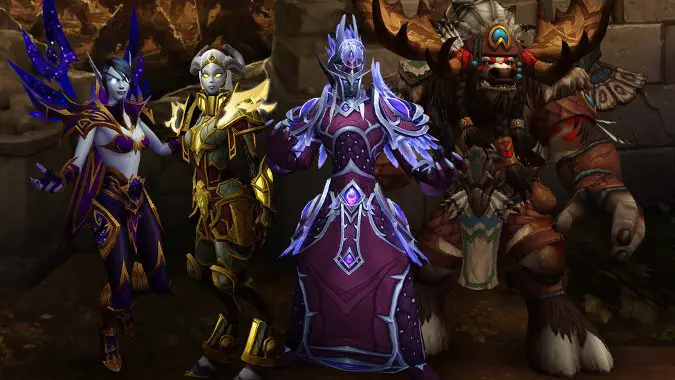 If you're wondering what Heritage Armor is, wonder no more. During the Battle for Azeroth reveal at BlizzCon 2017 we found out that we're getting Allied Races in the upcoming expansion. These aren't available as soon as the expansion drops. Instead, you must go through a quest chain process. In the quests, you'll convince each of the prospective allies to join your cause and aid your faction. It sounds like it'll be similar to the quests to obtain your various Artifacts. You then gain the ability to create a member of that race as a playable character.
Once you do that, however, you have to level your Allied Race character to 110 to unlock Heritage Armor. Allied Races start at level 20, bypassing the need for start zones — but you'll still need to level the rest of the way to 110. Heritage Armor is a cosmetic transmog set, unique to characters of that race. That race alone can transmog to these items. So if you're playing a Blood Elf as your main? You can't transmog to the Nightborne Heritage Armor, even if your Nightborne Mage has reached level 110 and unlocked that armor appearance. It's unique to characters of the race in question. Normal Draenei can't wear the Lightforged Draenei armor, normal Dwarves can't wear the Dark Iron Dwarf armor, and so on.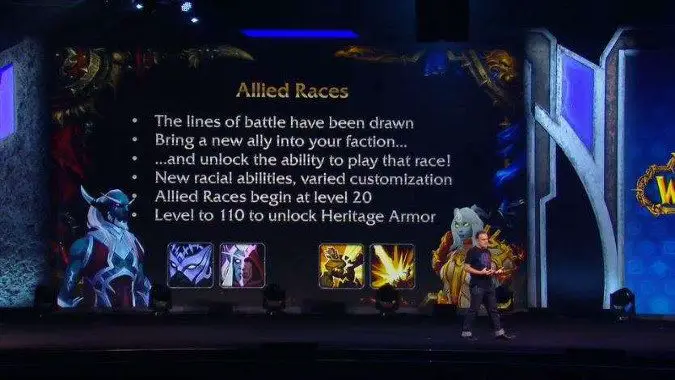 Each Allied Race has its own racial Heritage Armor set, unique to them. To gain access to the Heritage Armor for a race, you must level a character of that race to 110. To do that, you'll need to do the quests to unlock character creation for that race first. Then you must level to 110 on at least one member of that race to unlock the armor appearance. No word yet on if race change will satisfy this requirement.
To be clear — the intent isn't to make this a transmog set for your other characters. It's a special set of cosmetic armor that personifies the unique style of these races, wearable by them alone. Yes, this means you won't be able to run around wearing Nightborne gear on your Forsaken. But Blizzard didn't want to make you feel like you needed to unlock and level every Allied Race just to collect a new transmog set. Take a look at the gallery to check out all the new sets, available once Battle for Azeroth launches.