Death Knight Hero cards removed from Hearthstone Arena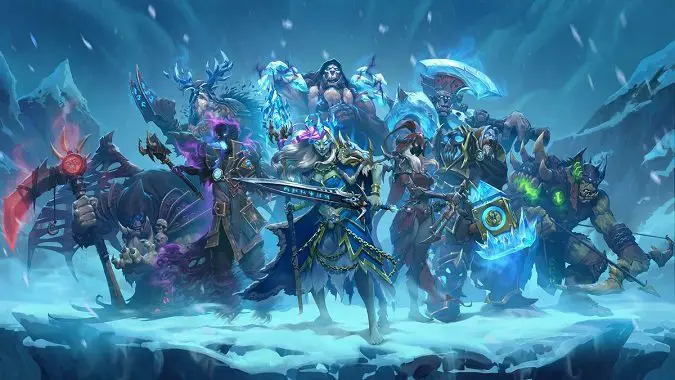 Starting today, Hearthstone has removed all Death Knight Hero cards from the Arena. Due to Arena's random draft nature, it has been a difficult beast to balance. The random element meant Death Knight Hero cards were an enormous advantage in a draft if you happened to get one, but difficult to counter if you went up against one. In constructed play, everyone can build their deck with Death Knight Heroes in mind, but in the arena, not so much.
Upcoming Arena Changes – 11/14/2017
Death Knight Hero cards can no longer be drafted in Arena.
Starting on the morning of Tuesday, November 14 PST, we will remove the nine Knights of the Frozen Throne Death Knight Hero cards from the Arena draft pool. While the Death Knight Hero Cards are exciting and powerful to play, their permanent Hero Power upgrades are hard to combat in a format where answers are limited.
We will continue to monitor Arena balance and make changes on an as-needed basis. Please note this change does not remove Death Knight Hero cards from existing drafted decks. For a complete list of cards that are not available in the Arena draft pool, please refer to our Arena Specifics forum post on the official Hearthstone forums.
This isn't the first time Blizzard has removed cards from Arena play. Once again, due to its random nature, the Arena has a way of shining a spotlight on cards that are too strong or too weak. Some classes have a glut of awful cards, which isn't a problem in Constructed, because you can simply not use them.
In the Arena, however, those junk cards are (or were) thrown at you in the draft, and there's very little you can (or could) do about it. This put classes such as Mages and Rogues, who had a strong collection of cards as a baseline, far ahead of classes like Priests or Warlocks who were littered with lackluster or highly situational cards.
That is, until Blizzard removed a large number of cards from the Arena pool back in September of last year. In February of his year, Blizzard went a step further and overhauled how the Arena draft functions entirely, including switching the game mode from Wild to Standard.
Of course, at BlizzCon 2017, the Hearthstone team also allowed its live audience to choose new cards that will only appear in the Arena, not in Constructed play. The longer Hearthstone goes on, the more Arena shifts away from anything resembling Constructed play. Then again, if that means Arena is a balanced game mode for those who enjoy it, maybe that's a good thing.