Blizzard wins Guinness world record for Battle for Lordaeron diorama
Click here for more photos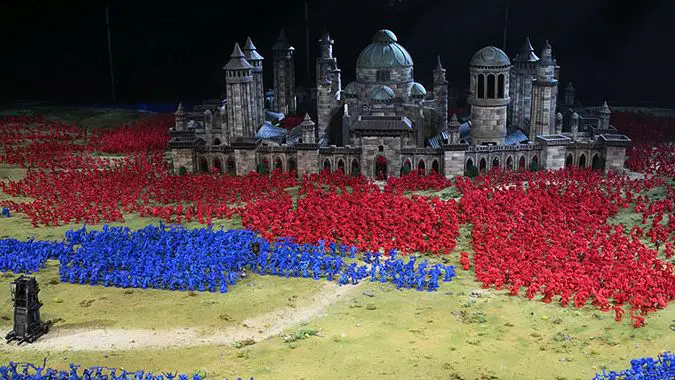 Blizzard announced the next World of Warcraft expansion, Battle for Azeroth, at BlizzCon with incredible style. After showing the usual features trailer, Jay Allen Brack paused and told the audience there was one more surprise for us: the full, pre-rendered cinematic for the expansion. The cinematic showed the epic confrontation between the Horde and Alliance at Lordaeron, and it delivered on every front.
Blizzard, as it turns out, decided to not only surprise us with the cinematic but also by recreating the entire confrontation in diorama form. A giant, incredibly detailed diorama. The Battle for Lordaeron diorama was such a massive undertaking that it actually set a Guinness world record for largest video game diorama.
Blizzard used over 10,000 3D printed figures in the fight, and the overall size of the diorama was 1,300 square feet — or, in Irvine terms, somewhere between one and two apartments' worth of space. Even better? Each and every 3D printed model was a miniature version of a different BlizzCon attendee's WoW character.
Attendees are able to check the official diorama website to see if their character was used and, if so, where their character stands on the battlefield. The character models, as seen in the video are all unique, "representing the armor set, race, and class" of the particular character it was modeled after. And, according to our resident healing Priest, the models appears to have been taken from whatever appearance was being used sometime between August and September of this year.
What's super cool — on top of everything else about the diorama — is that, if your character has been selected, it will not only tell you exactly what section they're in, but also show a video of that particular section so you can hopefully spot your character up close. The videos do a good job highlighting the detail put into the whole thing, but they still don't do it justice, in my opinion.
Having seen the diorama in person, I can say that actually standing next to it and even just walking around the thing makes it feel suitably massive. I have no idea what Blizzard plans to do with the diorama now, but I really hope it's brought out for future conventions or kept on their campus or something. It deserves to be seen.
If you didn't get a chance to see it in person, though, we did put together a gallery (at the top of the page) to help you whet your appetite. Seriously, check it out — it's dang impressive and totally worth your time.