Kobolds and Catacombs livestream to reveal new cards Monday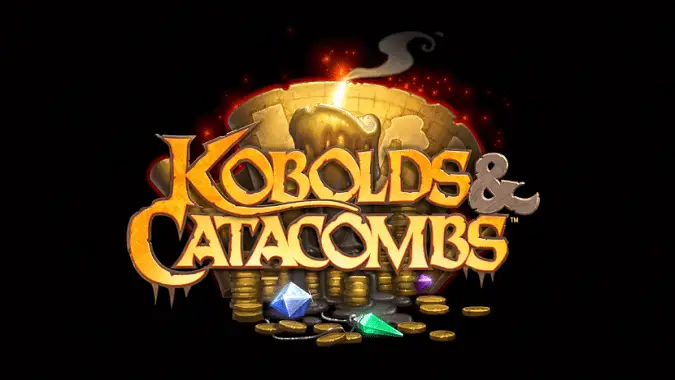 When Hearthstone announced its Kobolds and Catacombs expansion at BlizzCon, they said we'd see it sometime in December, and signs are pointing to early December rather than later. Monday, November 20 at 11 a.m. Pacific, Game Designer Peter Whalen and community personality Brian Kibler will be hosting a stream to reveal many of the expansion's new cards. We say "many" because the stream announcement keeps it vague:
Join Game Designer Peter Whalen and Brian Kibler on Nov 20 at 11 a.m. PST as we kickoff Kobolds and Catacombs card reveal season. Glimmering treasures, hoarding dragons, and ancient weapons are all waiting to be unearthed!
Ready to discover what lurks within the catacombs? Join us on Twitch or Facebook Live!
Unable to delve into the deep dark with us on that day? Fear not! We will be posting the full video on the official PlayHearthstone YouTube channel once the stream is over.
Check out the Kobolds and Catacombs website for the latest news that has been brought to light, and don't forget to pre-purchase to add the "For the Hoard!" card back to your Hearthstone collection.
Don't get trapped outside of the conversation! Join the discussion about Kobolds and Catacombs using #Kobolds on Twitter and Facebook.
Rather than holding a spoiler stream near the expansion's release date to reveal all of the remaining cards, this expansion's spoiler stream is being considered a "kickoff" of the card reveal season. We're likely to see a fair number of new cards during this stream, but more of them — and potentially some of the more exciting ones — will undoubtedly be unveiled later through community streamers and personalities. So far, out of the set's grand total of 135 new cards, only 14 have been revealed. That number includes Marin the Fox, which is already in-game and freely given to all players. Revealing 121 new cards in one stream is highly unlikely.
Still, chances are good the expansion's release is close — and its release date might very well be announced on this stream. The Sydney Inn-vitational, a Hearthstone esports event, takes place December 9. This Blizzard-sanctioned event is listed right on Blizzard's own blog and states all new expansion cards will be allowed under its ruleset. It's doubtful Blizzard is still referring to Knights of the Frozen Throne as a new Hearthstone expansion, so the listing suggests Kobolds and Catacombs will release sometime in the first week of December, making "card reveal season" a two-week affair, as it historically has been.
In addition to the usual myriad of new cards, Kobolds and Catacombs will also include the brand new, free-to-play Dungeon Run game mode. If you want to get a head start on the expansion, you can do so right now: this week's Tavern Brawl is rewarding a Kobolds card pack rather than its usual Classic pack.