Diablo
Nov 28, 2017 10:00 am CT
Blizzard's composers talk about the music behind Diablo 3: Reaper of Souls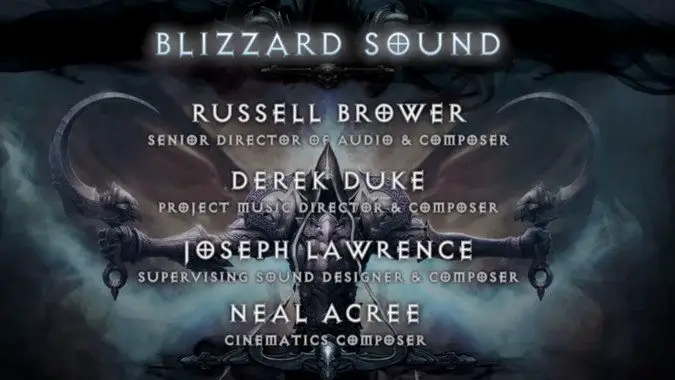 Though this video from GDC 2015 is hardly new, if you're interested in the music behind your favorite games — Diablo or otherwise — it's an astonishing look at the music-making process. It features a host of Blizzard musical personalities, and though they aren't all with the company anymore, but had a big impact on Diablo 3's music.
The video features Russell Brower (at the time, Senior Director of Audio and a composer), Neal Acree (cinematics composer), Joseph Lawrence (sound design supervisor and a composer), and Derek Duke (project music director and also a composer). In the panel, the four offer an in-depth look at the process of scoring and doing sound design for Reaper of Souls. They explain differences not only between Diablo 2 and Diablo 3, but also between D3 and its expansion. Reaper of Souls has a different feel and that was a deliberate choice on every level of its sound and music design, from the cinematic on — which meant a lot of behind the scenes work for the composers and sound designers.
Decisions that were made to differentiate the expansion include going to Ireland to get a completely different choir who sang with different accents just to make sure it didn't sound like what had already been done in previous games. Lawrence — who has the job of supervising sound design on the entire franchise — also talked about the collaborative nature of the process and how other composers could drop musical ideas for Duke to fully develop, helping make the finished product sound unique and consolidated while still being part of the Diablo setting, musically.
Admittedly, this is more technical and a lot dryer than something like a BlizzCon panel would be — it's at GDC, which means they're talking to a room full of game designers and other industry professionals, and that informs how the panel unfolds. But even two years down the road it's a very worthwhile panel to watch. If you ever wondered how Blizzard went about soundtracking its games, this is a thorough and interesting postmortem of the process that made Reaper of Souls soundscape. From cinematic to in-game sound and music it's all here — if you've played Diablo 3 and heard that work you know how amazing it is.