Overwatch half off for the holidays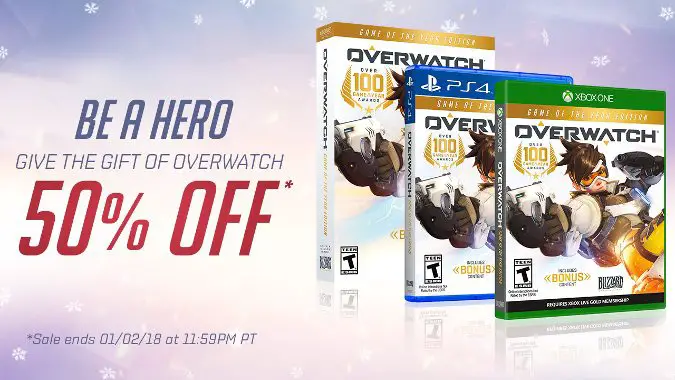 If you're one of those rare individuals who is interested in Overwatch and somehow don't yet own it, you're in luck. Overwatch is 50% off until January 2. That discount means you can get the Standard Edition for $19.99 USD or the Game of the Year Edition for $29.99 USD. The Standard Edition only includes the base game, while the Game of the Year Edition includes a number of bonuses:
10 Bonus Loot Boxes
Unique skins for Pharah, Reaper, Tracer, Soldier: 76, and Bastion
Tracer in Heroes of the Storm
Baby Winston pet in World of Warcraft
Mercy's Wings in Diablo 3
In-game portraits in StarCraft 2
A Hearthstone card back
Of course, this is the holidays. You may already own the game, but Overwatch might make a good gift for friends or family. Battle.net recently added the ability to send digital gifts through its app, so if you're hoping to sucker your buddies into playing some Overwatch with you, this is a great time for it. (And while you're at it, claim your free Heroes of the Storm Winter Veil loot chest.)
🎶 'Tis the season to be saving… 🎶

Give the gift of Overwatch and get 50% off through January 2!

🎁 https://t.co/gTuF3vECIl pic.twitter.com/jZYb0yzdHa

— Overwatch (@PlayOverwatch) December 15, 2017
If you are buying Overwatch as a Christmas gift, it might be worth sending that gift now rather than waiting until the traditional Christmas morning. Overwatch is currently in the midst of its Winter Wonderland event which includes a number of event-exclusive skins, and the event only runs through January 1. If you send them their gift on Christmas day, that would only give your gift recipient a week to work on their collection.
At the moment, Overwatch is the only Blizzard title currently running a holiday sale. Should any of their other games receive a similar discount, we'll be sure to spread the word.
Looking for other holiday gift ideas? Check out our gift guide!