Kick off Winter Veil in style and enter to win our holiday giveaway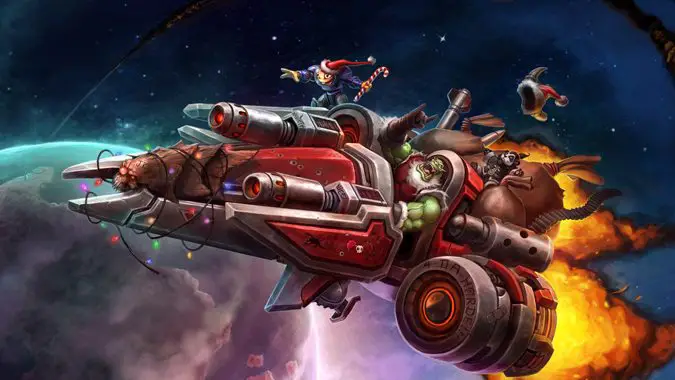 It's Winter Veil, that time of year that everyone eagerly crowds the trees to see what goodies they'll be getting. But hey, who says Winter Veil has to stay in-game? Blizzard has generously provided us with a pile of digital loot codes to give away to our readers. We have a little something for everyone! Well, nine lucky winners, that is!
Want to kick up your transmog game? We have a digital code for a Hood of Hungering Darkness, one for a Crown of Eternal Winter, and one for a Jewel of the Firelord. If pets are more your speed, we have a code for a Cinder Kitten of your very own, and a code for a Moonkin Hatchling. Or maybe you're in the mood for a mount! We also have a code for a Heart of the Aspects Mount, an Iron Skyreaver, or a Celestial Steed. To top it all off, we have a code for a Fey Dragon & Brew Pup bundle — fill out both your mount and pet collections in one go!
To enter for your chance to win, simply leave a comment on this post before 11:59pm Central on Thursday, December 21. Please note: These codes are North American only, apologies to our international readers! Winners will be notified via the email associated with their Disqus account. Please make sure your email address is valid before you enter. We'll choose the winners and prizes via random draw. Winners will be notified and winning codes will be distributed on Friday, December 22.
But wait! Winter Veil isn't over this weekend, is it? Neither is the giveaway! We have a second set of codes for all items listed above, and we'll be giving them away on our live show Tuesday, December 26. Tune in for the Blizzard Watch Podcast next Tuesday starting at 2:30pm Central on Twitch. We'll be picking winners from our live listeners throughout the show. Whether you're dropping a comment or planning on tuning in, we hope you have the happiest of Winter Veils. Good luck everyone!