Here are the best moments from Jeff Kaplan's Yule log stream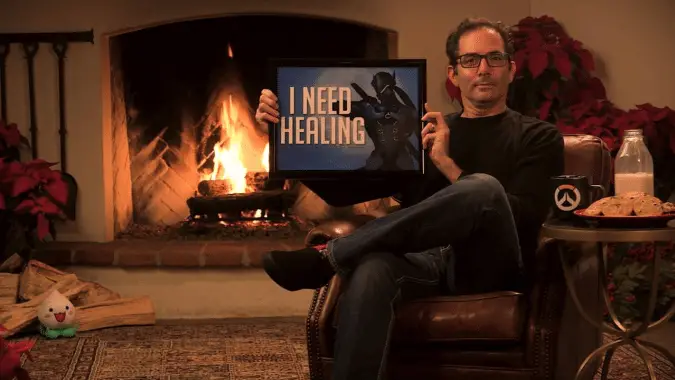 By this point, if you've been on the internet in the past few days even a little, you probably know that Jeff from the Overwatch team spent Christmas Eve in front of a Yule log. For 10 hours. But, depending on your own personal tastes, that probably wasn't the best part of the Yulestravaganza.
No, the best parts were the brief moments where something, y'know, happened. You'd be forgiven if you weren't around the whole 10-hour stream to catch all of these, but that's where we come in. Below, with the help of Dot Esports and Reddit, we've put together some of the most action-packed bits of the stream for your viewing pleasure.
The boop heard round the world
What's in the box, Jeff? What's in the box?!
Is Jeff's use of a cellphone a clue? Probably not
As we all likely suspected, Jeff is magic
Jeff eats a cookie. Yum!
Jeff reveals the next hero coming to Overwatch
Shout-out to Dinoflask from Jeff
And a few others…
Not everything is nicely clipped the way the above segments are, but that doesn't mean they can't be enjoyed. Courtesy of user Miber3 on Reddit, here are a couple more spots to check out Jeff bein' Jeff:
And, of course… the memes
Jeff is no stranger to love, you know the rules and so do I memes, as evidenced by the existence of this entire stream, so it's pretty unsurprising to see several of these moments tailor-made into their own, beautiful creations.
Among those, we have…
The Boom Mic receiving Play of the Game for hitting Jeff
Several edits to Jeff holding up the "I Need Healing" picture
On top of those, the following quote was one of the most spammed lines of text during the stream. I… don't really know how or why this spread, but goodness, did it spread fast. If you ever need a Jeff-related copypasta, just bust out this gem:
As Jeff Kaplan stares at me through my computer screen, I begin to contemplate reality. What truly has substance in this realm of technology, avarice and sin? What is our future, if not a blank, hollow nothing, rife with silence and strife?
And where would we be without one final, Blizzard Watch-themed Kaplan meme?
I don't know who to reply to, so I'm just leaving this here.@Faience @AdamHolisky @LodurZJ pic.twitter.com/LjOwCah9j1

— Mitch 💙 (@MitchFizzl) December 28, 2017
You're welcome.