WoW
Jan 16, 2018 4:30 pm CT
New faction specific Silithus questlines in patch 7.3.5 hint at Battle for Azeroth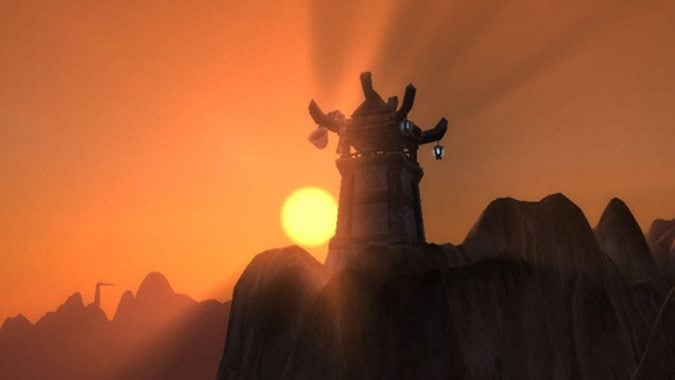 Update: With the patch due out today on North American realms, we thought you might want a refresher of patch highlights.
After Antorus opened, we all got a chance to see the raid cinematic and spoil our little hearts out. But if you've managed to avoid those spoilers so far, you definitely don't want to know about these quest chains the folks at Wowhead found in the patch 7.3.5 files. These spoiler-heavy quests directly follow the events of the Argus fight in Antorus, the Burning Throne, so if you don't want to know about any of that you probably shouldn't keep reading.
Seriously, guys, here be spoilers for patch 7.3.5. Read on at your peril.
Every faction was Azerite mining
The quests have some steps in common, but each faction reports to their own NPCs and is sent to Silithus on behalf of said faction. Alliance report to Mathias Shaw while Horde go visit the cuddliest undead ever, Nathanos "Free Hugs for everybody" Marris, the Blightcaller. Both charge their respective factions to head to Silithus, stop the other side from mining up some Azerite while collecting samples for themselves, and also try and learn the secret to Silithid evolution by farming up some brains and broodlings for study.
Finally, whichever faction you're working for you're sent to kill a Twilight's Hammer leader named Michiel Voidstrider. Interestingly enough, the quest text indicates that Sargeras' attack on Silithus has nearly wiped the Twilight's Hammer out in the region:
Silithus used to be overrun with members of the Twilight's Hammer. The cult was presumed to be exterminated, but it has always survived in the shadows. Their numbers have dwindled, but the cult remains no less fanatical than at their peak. Most of the cultists here were destroyed by Sargeras in the attack, but a few still remain. Their leader, Michiel Voidstrider has been emboldened by the destruction of Silithus. We cannot let Michiel rally the remaining survivors to action. He must be stopped!

The Twilight and the dawn of war
After you kill him — and imagine how disappointing it must be to barely survive Sargeras' plunging an enormous sword into the world right where you happened to be living, only to die when some thugs from the Alliance or Horde bust in and kill you — you're sent to speak to Khadgar, who promptly nopes out of the burgeoning faction conflict. Before he takes his ball to Karazhan and goes home — going so far as to say outright that he won't fight heroes on either side, but will instead try and commune with Medivh to solve the crisis — he asks you to deliver a letter to Magni Bronzebeard, who's hanging about in Silithus trying to figure out how to save the planet.
For some reason he doesn't round up five teenagers from around the world and have them form Captain Azeroth. Instead, it seems likely this will lead into the big Artifact goodbye we know is coming before Battle for Azeroth.
So yeah, the buildup to the next expansion definitely feels like it's coming with patch 7.3.5. Will this go live as soon as it drops or come in later, perhaps as part of a pre-expansion event? We don't know yet. But it seems possible that we'll be seeing the faction conflict heat up well before patch 8.0.1 or the next expansion drops.