WoW
Feb 21, 2018 1:30 pm CT
Jaina's Angels and other unusual NPCs in Battle for Azeroth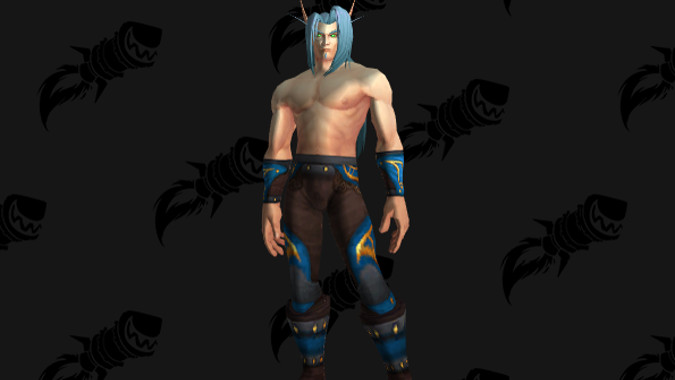 That strapping young Elf up there is Frostfencer Seraphi, one of Jaina's Angels. Who are Jaina's Angels? Well, based on some datamining, they're a group of two barechested fellows and a third who is wearing a shirt for no reason I can determine that I can only assume do Jaina's bidding when she uses magic to talk to them. I can also only assume that they've never seen her face and might not even know who she is, aside from her first name.
Even if that's not true, I no longer want to know. Let me have this.
The folks at Wowhead are at it again with some really interesting tidbits datamined from the alpha. We have a Highborne named Moonscythe Pelani who uses a Nightborne model which makes me wonder if we're going to see all current Highborne like the ones in the library at Dire Maul updated to that model. We have multiple Old God-themed NPCs (currently they're just using Grell models) and spells referring to them — including both Yogg-Saron and N'Zoth projections. Are we finally going to get a look at N'Zoth?
There's some sort of Racing Pengling, which I hope means we're actually racing sleds drawn by them. Come on, the text says it's a Pengling Sledding Champion, we have to race sleds drawn by these things. There's a Troll named Rid'lah who seems to be a clear reference to the Riddler's Mind Wyrm mount and I'm desperately hoping he's Grif'tah's respectable cousin. Battle for Azeroth is shaping up to have more weird references, strange NPC's and horrible tentacle monsters than you might have expected, and I for one am delighted to welcome our bizarre new friends.
I seriously hope there's a Jaina's Angels webseries where these three lounge around a pool and a floating ball shows up to give them missions.