WoW
Feb 27, 2018 11:00 am CT
Latest WoW hotfixes focus on good dogs and PVP adjustments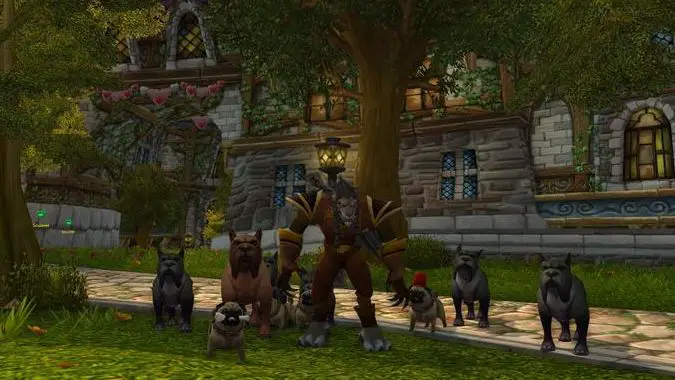 Last night, a small round of hotfixes went out in World of Warcraft, and most of them focused on some PVP tuning. If you happen to play a Brewmaster Monk, Protection Paladin, Discipline Priest, or Assassination Rogue in PVP, you may want to give the changes a look. The latter two have received only bug fixes, while the former two have had relatively minor adjustments made. Well, at least as far as I can tell — the Fist of Justice change might be significant for some of you.
But you all likely came here because I mentioned good dogs, so let's talk about good dogs. For a little while, there was a bug in the Scarlet Halls that caused the dogs after Houndmaster Braun to not attack the Guardians who blocked players' path down the stairs and through the rest of the instance. If you've ever tried to run past these Guardians before the dogs took them out, you're probably familiar with how quickly you got wrecked.
Sure, the Void Elf racial was a good way to get past them, but for everyone else, their livelihood directly conflicted with your livelihood. Thankfully, you'll no longer have to worry about their livelihood interfering with your murderous rampage through the Halls, as the dogs will now always devour the guards with gusto. 12/10 good dogs, indeed.
Check out the rest of the notes below:
February 26, 2018
Companion App
The Legion Companion App has been updated to correctly display the costs of missions that were recently changed.
Dungeons and Raids
Scarlet Halls

Houndmaster Braun

Obedient Hounds should always defeat all nearby Scarlet Guardians before continuing down the stairs. 12/10 such good dogs.
NPCs
Celestine of the Harvest again stands where intended at Olivia's Pond in Stormwind.
Player versus Player
Monk

Brewmaster

Guard can no longer be applied to non-player targets such as pets and guardians.

Paladin

Protection

Fist of Justice now reduces the cooldown of Hammer of Justice by 5 seconds in PvP (was 10 seconds).

Priest

Discipline

Fixed a bug where Trinity's bonus 20% healing transfer was increasing Atonement heals by more than intended.
Fixed a bug where Atonement's bonus 15% healing transfer in PvP was increasing Atonement heals by more than intended.

Rogue

Assassination

Fixed a bug that caused Kingsbane's damage to be higher than intended in PvP situations.
Quests
Accepting the Stonetalon quest "Is this Justice" should no longer disable the quest-giver for all other players.