The Hearthstone devs went on a hunt for the new expansion, but no one's returned
Updated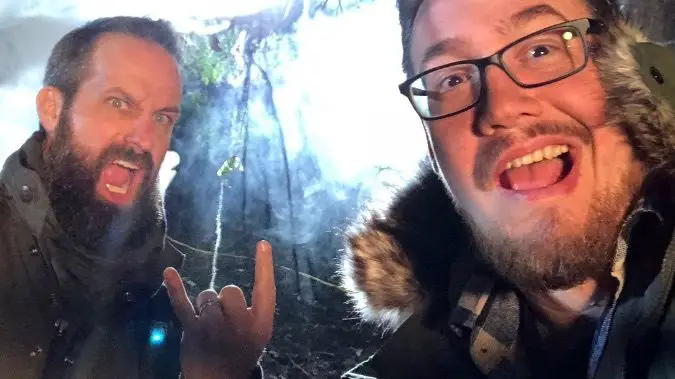 Update: This is the teaser that keeps on teasing. The hunt for the expansion — and the hunt for the devs who went on the hunt for the expansion — has continued into Monday. Find the latest at the bottom of the post.
I was really hoping for more news on the next Hearthstone expansion during the Year of the Raven livestream that was due last week. Alas, the stream was canceled because of the Ranked Play bug and never rescheduled. So just what is the next expansion going to be? We have a tiny teaser in the Year of the Raven teaser image, which shows a mysterious thorny, glowy thing over the first expansion. These images have been hints on the expansion's content in the past, but other than the Druidic look of those thorns, I'm at a loss.
But now we have another equally mysterious clue, because Dave Kosak has gone camping, hoping to hunt down the next Hearthstone expansion.
Nothing gets the @playhearthstone creative juices flowing like some time outdoors. I'm goin' camping and looking for the next expansion! pic.twitter.com/BMRv1RefNj

— Dave "Fargo" Kosak (@DaveKosak) March 6, 2018
Team Blizzard Watch has been debating just what the background is. Could it, combined with his furry hat, suggest a snowy environment like Winterspring? Or is it a steamy hot spring? Or is this all a misdirect and Kosak is very inappropriately dressed for a beach vacation? (Matticus has suggested "Journey 2 Un'goro," "2 Journey 2 Un'goro," and "Journey to FUN'goro," all of which I think are long shots.) In short, we have a lot of bad ideas and no answers.
And we may not get those answers any time soon, because Kosak "left" nearly a week ago and no one's heard from him since. That, of course, means the Hearthstone team is sending out a search party… though it looks like Brode is more interested in finding the expansion than finding Kosak. (Sorry, Dave, but unless you have the expansion in-hand you may be in trouble.)
Still no word from @DaveKosak. Hey @benthompsonart – you want to help me look for him? I really want to see the next expansion!! https://t.co/wmDPZjemJF

— Ben Brode (@bbrode) March 9, 2018
And yet another member of the Hearthstone team is along for the ride as Art Director Ben Thompson promises to grab his camera and join in the search. This teaser that follows definitely has a jungle vibe… but, gosh, I hope Matticus isn't right about "2 Journey 2 Un'goro."
Selfie from the road! pic.twitter.com/RNkzzBYXdz

— Ben Brode (@bbrode) March 9, 2018
So when will we know about the expansion? When asked how long the search will take, Brode replied:
It depends on how long it takes us to find Kosak. We're leaving soon to find him, but i think it could take a few days
…but if we're not back Sunday night, call Yong Woo.
SENT FROM MOBILE
There was no word from Kosak, Brode, or Thompson by Sunday afternoon, but according to Yong Woo, "What could go wrong?" Well, the first thing that could go wrong is that someone could ask what could go wrong, thereby dooming us all. But this is Hearthstone, so we're probably doomed in a really funny way. I'm sure it's fine.
But where's the expansion? By Sunday evening, though, some worry started to show.
Hey. Anyone seen @bdbrode or @benthompsonart? They were searching for the next expansion with @DaveKosak and haven't come back. Maybe I should look for them….

— Yong Woo 💙 (@ywoo_dev) March 12, 2018
However, I'm not sure I can recommend another search party. This feels increasingly like a horror movie in which everyone goes down to the basement one at a time to see what's wrong, only to be slaughtered like people who have never seen a horror movie. Don't make this mistake. Can the Hearthstone team requisition a tank? Is Reinhardt available? Does anyone have a small army handy? Because that may be what we need at this point.
But of course he went to look for them. Alone. Probably into a dark scary basement.
I didn't find @bdbrode, @benthompsonart, or @DaveKosak but I found Thompson's camera where they were supposed to be. Let me get this footage uploaded…

— Yong Woo 💙 (@ywoo_dev) March 12, 2018
And here we have it… The Witchwood!