WoW
Mar 23, 2018 6:00 pm CT
Dark Iron Dwarves get a one-headed Core Hounds as their racial mount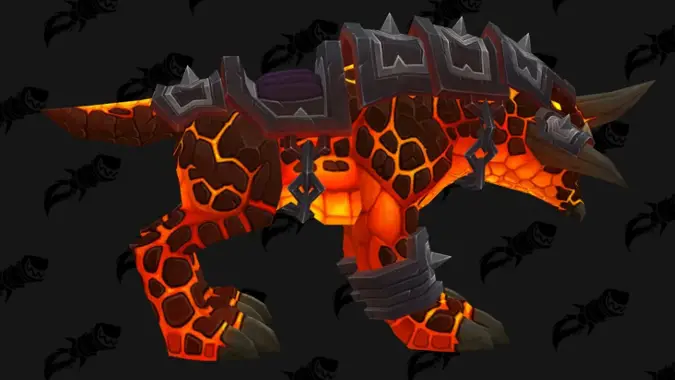 Earlier this week, we took a look at customization options for Dark Iron Dwarves, one of the upcoming Allied Races in Battle for Azeroth. Now, thanks to Wowhead, we also get a preview of their racial mount: Core Hounds. The image at the top of this post provides a glimpse of its armor, but you can see the mount's physique a little better in the image below.
This iteration of the Core Hound seems less bulky than the old, stocky beasts we used to know. This Core Hound looks like someone could actually ride it properly, rather than sitting precariously atop its back. Considering this is the Dark Iron Dwarves' racial mount, it's fun to speculate a little: Maybe these Core Hounds have been tamed, domesticated, and bred to be useful as mounts or hunting dogs. The ones we've seen in Molten Core (and elsewhere) are the wild, natural version of the Core Hound.
Paladins of the Dark Iron also have their own, unique mounts in the form of armored rams: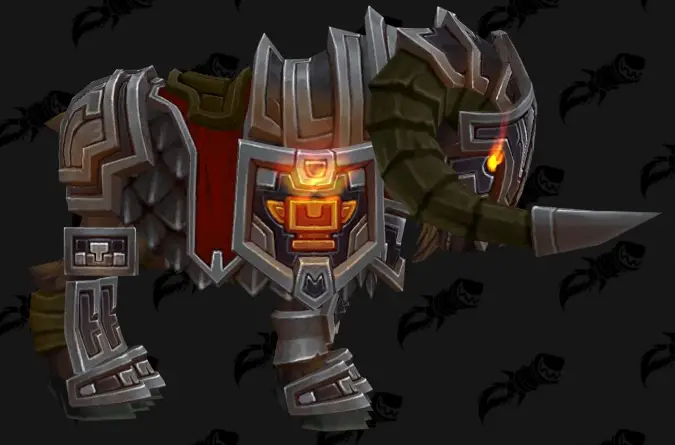 Datamining of the ram has uncovered two variations: the silver version seen above, as well as a gold version. We can only speculate, but it seems highly likely that in addition to Dark Iron Dwarves receiving the silver version, your regular ol' vanilla Dwarven Paladins will receive the gold version. In the live game, Dwarven Paladins are currently stuck with the horse mount used by Human Paladins, and it's been a bit of a pain point for Dwarf players. Humans have their Chargers, Blood Elves have the red Charger, Draenei Paladins have their Elekk, and Tauren have a Kodo — but Dwarves have been forced to share a mount with Humans rather than having their own racial variant.
The addition of Dark Iron Dwarves might have given Blizzard a compelling reason to finally give Dwarves their own paladin racial mount: two birds with one stone. Beyond the ones mentioned here, Battle for Azeroth is already packed full of cool new mounts including dinosaurs, a potential vulture mount, and freaking bees, y'all.