WoW
Mar 14, 2018 5:13 pm CT
Is this going to be the Vulpera Allied Race mount?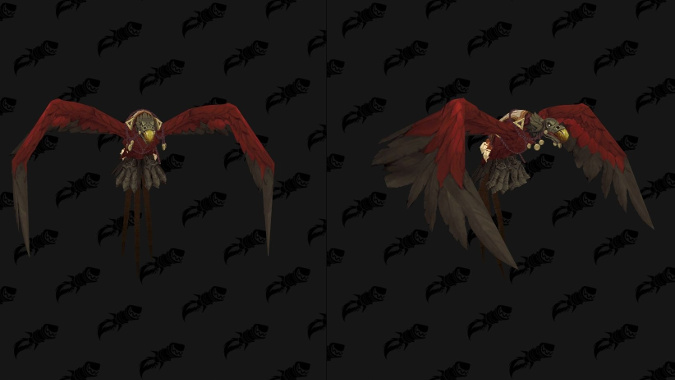 Oh, I hope so. The folks at Wowhead previewed the datamined Buzzard mount that several of the already mentioned Vulpera NPC's ride. And better yet, they've connected the mount to the Vulpera due to one of the models being specifically being named Kiro's Mount – NEED NAME — and Kiro is a Vulpera NPC. Also, many of the aesthetic details of the Buzzard's saddle and kit are based on other Vulpera models such as Kiro's War Caravan.
Now, again, this is all datamined from the alpha and none of it proves that we're getting Vulpera as an Allied Race. We've been told before that it's easier to design some NPC's as PC's and if a prominent NPC needs a mount of course they're going to design it, but it feels to me like we're seeing a lot of work on the Vulpera. If we don't get them as an Allied Race I'll not only be heartbroken — I will, Blizz, you're tearing me apart here — but I'll also be astonished at the level of design and detail put in to a strictly NPC race. It just seems like the Vulpera are perfect and ready to be introduced as an Allied Race.
Of course, right now we only have two Allied Races directly confirmed and Mag'har have been heavily hinted by Ion Hazzikostas, making them pretty much a sure thing. So we're left with more questions than answers. Who would get playable Vulpera? How would one unlock them? Do we get awesome giant crazy birds for their mounts? Dear Blizzard, can we please get awesome giant crazy birds for the tiny adorable fox people to ride on, please? I feel like the entire WoW community has been very good this year, and we deserve this. You've done so much work on them, come on, just let us have this.