New Overwatch comic: Retribution sets the stage for a new event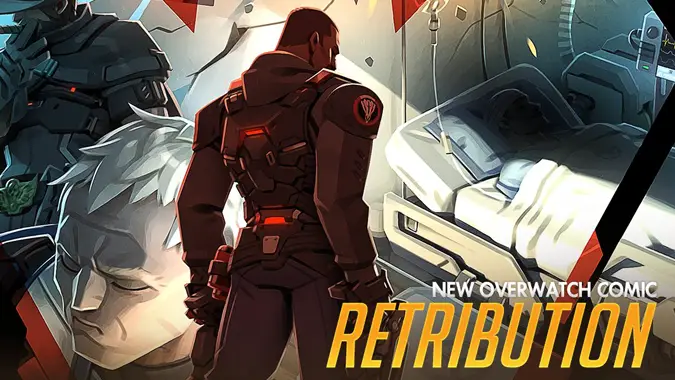 A new Overwatch comic is available, shedding more light on details surrounding the upcoming Overwatch Retribution event. In Retribution, we take a trip back through the Overwatch archives to eight years ago. The Oslo event mentioned in yesterday's news release was, in fact, Talon activity. Specifically, the work of a man named Antonio. It's not the first time Overwatch has tangled with Talon — and the situation requires an expert in dealing with the nefarious organization. That's right, Gérard Lacroix makes an appearance here, the first we've seen as an active — and alive — Overwatch agent. But Talon's already got the jump on Lacroix's plans, and they aren't about to let him get away with what he's planning.
Retribution is a snapshot of one of the more important moments from Overwatch history. The comic ends with the appearance of Blackwatch staff, including McCree, Genji, and Moira. It highlights the continued rising tensions between Reyes and Morrison. And it gives us a preview of what we're looking at for the event next week. Rumors of a new map in Venice may very well be correct, because that's where Reyes, McCree, Genji, and Moira are off to at the end of the comic. This looks like the hero lineup for the new mode, which sounds like it'll feature an attempted kidnapping. This also the Venice incident mentioned in Moira's hero profile. It's the event that uncovered her employment with Blackwatch.
Written by Matt Burns and featuring art by Gray Shuko, Retribution is another fascinating glimpse into Overwatch's inner workings. I'm really happy we get a better look at Gérard, although as we know, he's not long for the world. But we also get a better look at Reyes as well. It's interesting seeing his train of thought here, because we know where he eventually ends up. I'm curious how the man so adamant about taking vengeance against Talon ends up ultimately working with them. Currently, the comic isn't available on Blizzard's comic reader. There's also no plans for a Madefire version. To read Retribution in full, you can download the PDF from Blizzard. And stay tuned — tonight's Overwatch League broadcast will shed more light on Overwatch Retribution.