WoW
Apr 9, 2018 3:00 pm CT
Battle for Azeroth's Collector's Edition novella previews leave us wanting more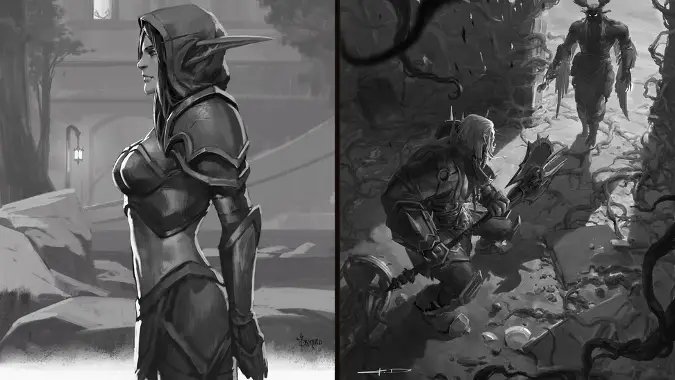 Every World of Warcraft expansion gets a tie-in novel, but in addition to its novel, Battle for Azeroth is also getting a pair of novellas — both of which are included as bonuses if you purchase the game's Collector's Edition. One novella is from the Alliance's perspective, while the other is from that of the Horde, each one telling the story of "a fateful event." Context clues suggest these novellas will explore the burning of Teldrassil.
There are two sides to every story. Get a taste for the tension and drama that unfolds in this preview of our Battle for Azeroth novellas: Elegy by Christie Golden and A Good War by Robert Brooks. These two tales explore the Horde and the Alliance versions of a fateful event, but only you can decide which faction tells it best.
Blizzard's official announcement has brief excerpts from each novella, and no matter which perspective you read, they paint a bleak picture for the Night Elves. In one, the Night Elves are caught unawares by rogues and assassins while most of their military is elsewhere. In the other, Malfurion Stormrage is caught in battle with both Saurfang and Sylvanas.
Where these novellas are concerned, my only hope is Blizzard doesn't use its usual tactic of painting everything as a big misunderstanding. Even when one faction or the other is clearly the aggressor, Blizzard often performs acrobatics — sometimes truly bizarre, logic-stretching acrobatics — to make a move sympathetic. It happens so often in WoW, my gut assumes Blizzard is telling the story this way to somehow blame the Night Elves for their house being burned down, or to at least make the Horde seem innocent in the bloodshed. But who knows? That might not be the case, and we won't know until we have these novellas in our own hands.
If you didn't pre-order the Collector's Edition, have no fear: These novellas will be available digitally. Exactly when they'll be available, we don't know — we only know that they will be. However, the Collector's Edition is the only way to get a hardcover version.
Battle for Azeroth will release August 14, 2018.