Deckard Cain is live in Heroes of the Storm with Lorenadoes and a brand new patch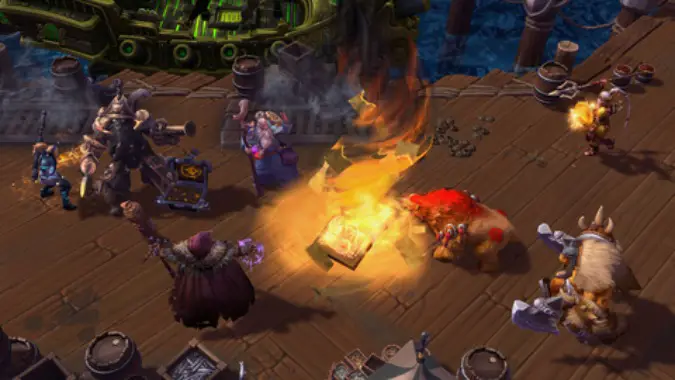 The day has finally arrived: hero of heroes Deckard Cain has joined the Heroes of the Storm lineup. He hasn't changed since his debut on the PTR last week, and we still love his bizarre skillset just based on names alone. Because, really, who doesn't want a heroic that summons a literal Lorenado? (Sure, putting people to sleep with Stay Awhile and Listen is also great, but it's no Lorenado.)
We've been waiting on Cain to make his Nexus debut for a while now — Alex first mentioned it in the Queue almost three years ago. (And since Blizzard Watch is only three years old, that means we've been waiting on Deckard Cain for a long time.) But I have to congratulate Rossi on making a pretty spot on guess when he speculated about the game's next hero back in 2016:
I want a playable Deckard Cain in Heroes of the Storm. While we only see him in-game as a hobbling old man (stay a while and listen), he wasn't always old. He was a schoolmaster, a town elder, and the last of the Horadrim — whether young or old, if you take the "knowledge is power" route Cain has what it takes to make it in the Nexus. In the end, even if all of his powers were ridiculously contrived I really don't care, because I'd like to see more of Deckard Cain (even in the sometimes silly environment of Heroes).
All I have to say to that is Lorenado. And if you have no idea what I'm talking about, you should probably start by checking out Cain's abilities in the patch notes:
New Hero: Deckard
An avid scholar, Deckard Cain has dedicated his life to the pursuit of knowledge. He has been an advisor, storyteller, and friend to Sanctuary's greatest heroes, guiding them through peril time and again. When Deckard speaks, it's wise to stay awhile and listen.
Trait
Fortitude of the Faithful

When at least 1 other allied Hero is nearby, Deckard gains 10 Armor and his Basic Abilities recharge 50% faster.
Basic Abilities
Healing Potion (Q)

Toss a Healing Potion on the ground that heals the first allied Hero that comes in contact with it for 230.
Limit 5 active Potions.

Horadric Cube (W)

Throw the Horadric Cube, dealing 80 damage to all enemies in the area and Slowing them by 40% for 1.75 seconds.

Scroll of Sealing (E)

Unfurl an enchanted scroll, forming a triangle that deals 150 damage to enemies inside and Roots them for 1.5 seconds.
Heroic Abilities
Stay Awhile and Listen (R)

After 1 second, Channel for 3 seconds, putting enemy Heroes in front of Deckard to Sleep while Channeling, and for 2 seconds after.
Enemies can only be put to Sleep once per cast, and Sleep's effects end instantly if they take damage.

Lorenado (R)

Vector Targeting.
Create a swirling lorenado that travels in the targeted direction, continually knocking away any enemies that come into contact with it.
But our friend Cain isn't the only thing arriving in the Nexus with this patch. Though we saw them on the PTR, there are also some tweaks to other heroes, though this small Genji rework is the most notable.
Genji
Stats
Health increased from 1550 to 1620.
Health Regen increased from 3.2304 to 3.3750.
Basic Attack damage increased from 42 to 44.
Abilities
Cyber Agility (Trait) (D)

Cooldown increased from 10 to 12 seconds.

Swift Strike (E)

Range reduced from 14 to 12.

Dragonblade (R)

Damage increased from 220 to 240.
Removed functionality:

Killing an enemy Hero who was recently hit by Dragonblade no longer resets Swift Strike's cooldown.
Talents
Level 1

Agile Dismount (Trait)

Cooldown reduction increased from 5 to 7 seconds.

Level 13

Double Jump (Trait)

No longer increases Cyber Agility's cooldown.

Level 20

The Dragon Becomes Me (R)

Additional Functionality:

Now also resets Swift Strike's cooldown if an enemy Hero dies within 2 seconds after being hit by Dragonblade.
Developer Comment: We're making some changes to Genji to try and make him less frustrating to play against and give opponents more options with which to counter him. While we think resetting Swift Strike's cooldown after killing enemy Heroes with Dragonblade made for cool, flashy plays, it shut down too many other Heroes too often. It also caused too many games to become about how much value Genji was able to get out of Dragonblade and little else. We like the flashiness that Dragonblade resets can provide, so we're keeping that functionality, but we're now adding it to his Level 20 Storm Talent version of the Heroic. We're also increasing his Health and Basic Attack damage, reducing the range of Swift Strike, and increasing the cooldown of Cyber Agility to reduce his mobility while boosting his base stats to compensate.
Then there are a couple of surprise changes we didn't see on the PTR, though neither of them are earth-shaking. First, there's a news-focused rework of the home screen.
Home Screen Rework
Heroes of the Storm's Home Screen has received significant improvements.

A secondary navigation bar has been added near the top of the Home Screen, beneath the existing Play, Collection, Loot, and Watch buttons.

Click each tab on the Home Screen navigation bar to switch among different categories of Heroes-related news.
Home Screen tabs will be updated regularly, and will commonly include information about the latest Hero, the current in-game event, Heroes Esports, and more.

Each Home Screen tab features additional news items near the bottom of the screen, which can be clicked to find out more details about that topic.

For example: Home Screen buttons may link to Heroes and other items in the Collection, the latest Hero Spotlight Video, the Heroes Global Championship Schedule, and more.
And finally there are some changes to Warhead Junction to balance the Battleground out.
Warhead Junction
Neutral Swarm Host Boss

Will no longer burrow while defending its camp.
Slime Pods

Pod impact locations will now display warning indicators on the terrain.
Pods now explode immediately on impact, and no longer spawn Podlings.
Increased the number of Pods launched per cast.

Captured Swarm Host Boss

All of the above changes also apply to captured Swarm Hosts.
Slime Trail
Slime Pods

Pods can now target Structures.
Developer Comment: We believe the Warhead Junction boss is a cool variant of the standard golem boss found on most maps, but it had some inconsistencies that needed addressing. These changes essentially make the boss a better version of itself—its neutral and captured versions are closer in power, and its Slime Pods create a cooler moment than its Podlings did previously.
If you want to see the rest of the details, check out the full patch notes. And now, if you'll excuse me, I have some Lorenadoes to summon.