Player feedback results in changes to Heroes of the Storm loot boxes
Click here for more photos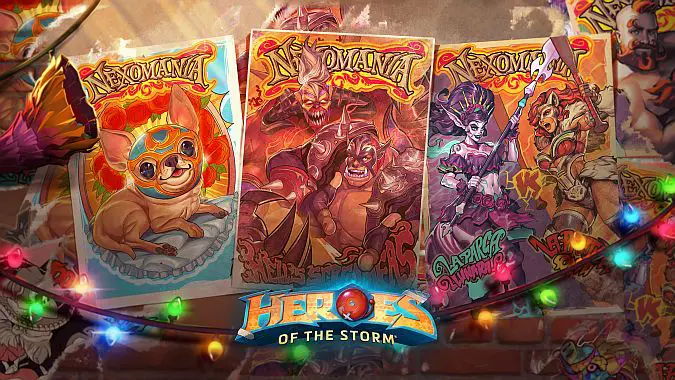 Nexomania is in full swing in Heroes of the Storm, and just a few short days after the event's launch, Blizzard Entertainment is changing how the event's loot works. Historically, in both Heroes of the Storm and Overwatch, event-specific loot boxes dropped both the current year's cosmetic rewards and those of the previous year. Winter Veil loot boxes, for example, will drop the Winter Veil loot from every year. However, Heroes of the Storm changed the theme of its summer event this year. Last year, we had the beach-themed Sun's Out, Guns Out, but this year is the Lucha Libre-themed Nexomania. Players who were itching to get their hands on luchadore swag weren't happy with getting loot boxes full of beach party items.
As a result, Blizzard will be changing the droprate of Sun's Out items in Nexomania loot boxes — and providing free bonus loot boxes to players who already purchased some with gems.
Nexomania and Event Loot Chests
As many of you know, themed event Loot Chests are guaranteed to contain at least one event-related item. Since items from last year's Sun's Out, Guns Out event are no longer available, we felt Nexomania could be a great opportunity to give players a second chance to pin down items from both events.
With that in mind, we gave Nexomania and Sun's Out items an equal chance to drop in Nexomania Loot Chests. After reading community discussions, however, it seems we overestimated how often players would like to open Sun's Out items. We'd like to put Nexomania back into the spotlight:
As of now, we've greatly increased the likelihood that Nexomania items will drop over Sun's Out, Guns Out items in Nexomania Loot Chests.
If you used gems to buy Nexomania Loot Chests prior to 07:01 p.m. PDT on May 23 (4:01 a.m. CEST / 11:01 a.m. KST May 24), you will receive a number of new Nexomania Loot Chests equal to the amount you originally purchased.

These replacement Chests will feature the updated event item drop rate mentioned above and will be awarded within the next few days.
Please note: Nexomania Loot Chests earned through progression or Heroes Brawls will not be replaced.
We're also going to make this drop-rate adjustment for future events. Going forward, new event Loot Chests will have this same increased chance to contain new items from the current version of an event over existing items from past versions of that event.
Personally, I can understand both sides of the argument in this case. I quite enjoyed the Sun's Out event (to the point of some slight controversy) and didn't mind receiving some of the items I missed out on last year in my loot boxes; one of my first loot boxes this year gave me last year's Tracer skin, and I was thrilled. That said, Heroes of the Storm did switch up their theme this year. People are excited about Nexomania, not Speedos and sand castles — and going forward, with this change being implemented in future events, it means players are more likely to receive the most recent rewards. It's great for people who want the hot new toys; it's not quite as great for those who missed out on something they wanted from a previous year.
As a result of player feedback, Blizzard will also be changing how event bundles work in the future. Currently, if you want to skip loot boxes and purchase, for example, Sonya's La Pantera skins directly, you can't do that. La Pantera Sonya is only included in the Match of the Century Bundle. This bundle includes three heroes, nine skins/tints for those heroes, and three mounts, with a price tag of roughly $40 worth of gems. Redditors compared this to walking into a department store for a pair of jeans, but the store won't let you make the purchase unless you buy an entire outfit with matching shoes and a handbag.
The bundles won't be changing during Nexomania, but in future events, players should have more options:
Event Bundles and Skins
Events like Nexomania are jam-packed with lots of new Hero skins and other cosmetic items. While we have a blast creating and releasing skins, we've also read feedback from players who would like more options when it comes to adding them to their collections. With future events, we're going to give players more opportunities to pick up specific skins outside of the event bundles they appear in:
Going forward, new Hero skins that are included in larger event bundles will also be available in separate Skin Packs.

Each pack will be purchasable using gems and will contain all currently available versions of that skin.
This change doesn't mean big event bundles are down for the count. We still plan to add them to the game but wanted to give players more variety when it comes to picking up new event items.
This change is one I can get behind; I do try to support free-to-play games I enjoy by purchasing something from time to time. I see it as something of a social contract: I should at least pitch in a token amount of cash to support a game that isn't charging me otherwise. If no one is buying anything, then there's no game. However, no matter how much I might want La Pantera Sonya, I'm not spending $40 for a bunch of unrelated junk that I don't want. And I strongly suspect the people who are looking to buy an item directly would see purchasing loot boxes and rolling the dice as an acceptable alternative.
Overall, these sound like decent changes, whether they're being implemented now or for future events. I respect Heroes of the Storm's willingness to alter its storefront based on players' wants; there are plenty of players who aren't fans of loot boxes, but Heroes tries to make them as painless as loot boxes can be.