WoW
Jun 13, 2018 5:23 pm CT
World of Warcraft Storytelling panel at E3 discusses how to weave a franchise together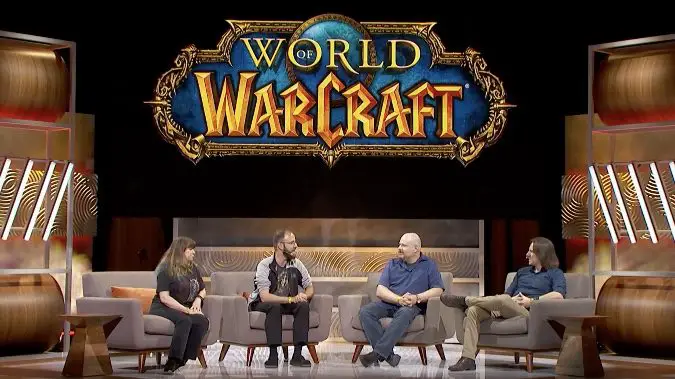 Okay, so Blizzard isn't entirely absent from E3 this year. While there haven't been any big game announcements, they did make sure to send Senior Narrative Designer Steve "Moorgard" Danuser, Cinematic Project Director Terran Gregory, and novelist Christie Golden to this year's conference, where they sat down with moderator Matthew Mercer (you may know him as the voice of Aluneth, or McCree from Overwatch, or maybe as the DM from Critical Role) and discussed World of Warcraft in terms of how it weaves together its story.
The panel was only about a half hour or so, but it was still pretty interesting. It ranged from what goes into keeping the story cohesive not just through various tie-in media like novels, comics, and shorts like the Harbingers series to how complex the teams are, how many people work on these aspects of the game (turns out a lot) and what it's like to have written for Warcraft since before WoW even existed in Christie's case. There were a lot of highlights to hit — Terran promised there would be surprises as we head into the two month ramp up for Battle for Azeroth including things Blizzard has never done before — and we'll try and hit a few below.
Moorgard made sure to emphasize that the storytelling in World of Warcraft is a team effort, with people from various teams coming together to help weave together the storylines from expansion to expansion. He contrasted how Blizzard used to approach WoW expansions as stand-alone, so that The Burning Crusade didn't necessarily flow into Wrath of the Lich King, but now Warlords flowed more into Legion which is going to have consequences and effects on how Battle for Azeroth plays out.
In response to Matt making the point that Blizzard definitely doesn't seem afraid to "kill their babies" when telling the story of the past couple of expansions, Terran talked about how they approached the opening of Legion and the deaths of major lore figures like Varian Wrynn and Vol'jin. "We're going to do something terribly brutal, I'm both terrified and really excited." Another quote from Steve Danuser really seemed to sum up the approach Blizzard is taking: "If you haven't been to Silithus lately, there have been some modifications." When asked about the difficulty of killing off major lore figures, Christie Golden said "I've been doing this for 27 years and it never gets any easier" so at least there's some solace for those of us who aren't over Vol'jin yet. Or if you read Before the Storm, no spoilers but trust me, she's only gotten better at it.
Christie got to talk about how she approaches writing for the media that helps provide the connective tissue between expansions, saying that her background in theatre is useful for inhabiting a character and really thinking about how the story unfolds from their perspective, and all three of the panelists talked about having actually sat down and acted out parts, even going so far as to try and out-Orc one another.
There was a discussion of team size, varying from 15 people on Christie's Story Development team to hundreds of encounter designers, all of whom have roles to play in shaping the expansion and its storytelling. Every team member has to focus on how the story and gameplay are yoked together to make each expansion showcase the consequences of morally dubious actions on both sides. Terran mentioned that this is actually the first time World of Warcraft has actually moved from faction conflict into outright faction war — even in Cataclysm or Mists of Pandaria you didn't see the story split apart and give the two factions two completely different storylines to level in and explore. An emphasis was made on how Blizzard now has the means to put your character into some of the in-game cinematics, which means that players can be the focus in big lore moments.
Overall, if you're interested in how Blizzard handles juggling all these characters and keeps the game moving forward, it was an intense panel to watch and I recommend giving it your time.