WoW
Jul 23, 2018 2:02 pm CT
Warbringers: Jaina animated short delivers an emotional gut-punch in song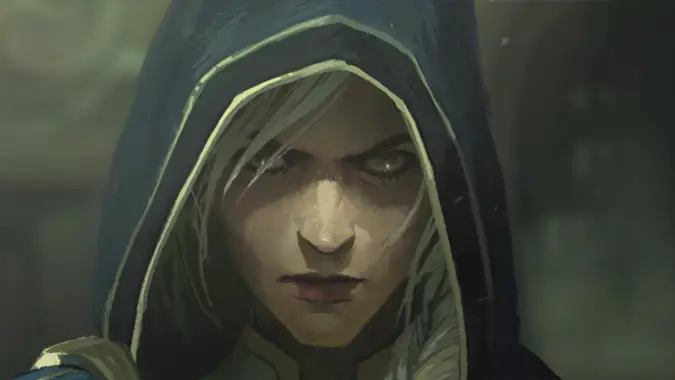 This is the story I have absolutely been waiting for in regards to Jaina Proudmoore. Look, Jaina hasn't exactly had what anyone could call a conventional life. Born to the seafaring kingdom of Kul Tiras, Jaina left her home and traveled to Dalaran to study with the Kirin Tor. That was probably the last bit of normalcy she experienced, because between Arthas, the Third War, and the fallout, Jaina's been hit with blow after emotional blow.
In Warbringers: Jaina, we finally, finally get to see her start to come to terms with it. Jaina's always been known for having a diplomatic bent — after the Third War, she let her own father fall to the Horde in the name of said diplomacy. But we've never really seen much in the way of fallout from her actions. We've never seen her come to terms with the fact that she essentially orchestrated her own father's demise. Yes, for good reasons…in theory, at the time. Years later, those reasons appear to have been proven wrong.
This is not the style of animated short we're used to. Rather than being told through spoken word, Jaina's story is relayed through song. It's a song still sung by the people of Kul Tiras, and it serves as both warning and lesson…for the people of Kul Tiras, and for Jaina as well. Jaina's life has been shaped through a series of tumultuous events, and while we saw her come to terms with Arthas and his fall in Wrath, we never really saw her recognize her father's death, or what that meant in the larger scope of the world.
The sea shanty is beautifully sung by Laura Bailey, Jaina's voice actress, as well as others. The lyrics for the piece were written by Robert Brooks, who was kind enough to post them on Twitter as well.
https://twitter.com/RoBrooks13/status/1021448402528174080
As for the animated short, we're once again looking at the exceptionally talented work of Laurel Austin, as well as Vasili Zorin, Jonathan Fletcher, and Yewon Park. I've pretty much loved every single animated short Blizzard has produced since Mists of Pandaria's first foray, The Burdens of Shaohao. But this one — no pun intended — blows them all out of the water. Between the song and the powerful imagery, I'm at a complete loss for words.
Keep in mind that this song was written by the people of Kul Tiras. It's a reflection of how they feel about Jaina and her actions after the Third War. Admiral Daelin Proudmoore was beloved, and his death was a heart-wrenching blow to the people of Kul Tiras. The fact that Proudmoore's daughter, of all people, let him die is at the heart of their current views towards Jaina.
It also means that her attempt to mend fences in Battle for Azeroth isn't going to be an easy task — not in the least. I can't wait to see it. And if this is the level of quality for this round of animated shorts, I also can't wait to see what the other two have in store.