Which addons are you hopelessly dependent on?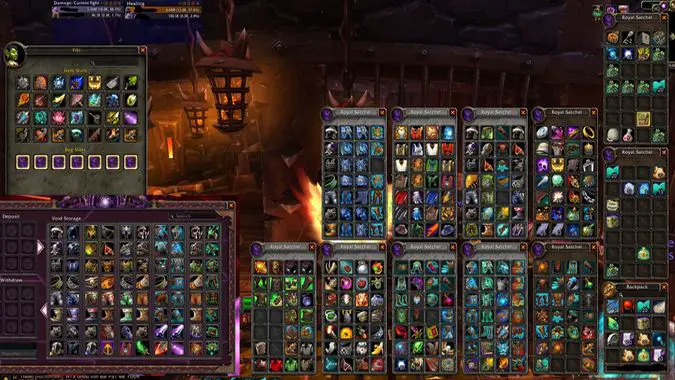 It's official — I can't function properly without Adibags. I didn't use a bag addon for years, but someone finally pointed me in the direction of that particular addon after getting a look at a screenshot of the horror show that was my bags with the built-in interface. I wasn't really sure how much I'd like having a bag addon, but I very quickly found myself wholly dependent on the thing. I don't use addons on the beta, and Adibags is easily the one I miss the most when I'm testing brand-new stuff.
I have a ridiculous number of addons. I don't use them all — I'm in the process of ditching the ones that have remained unused or haven't been updated for Battle for Azeroth. But there's a select few that I absolutely cannot do without. Adibags for one — and then there's Dominos, which lets me organize my action bars to my exact specifications. Perl Classic is my unit frame addon of choice; I like how it just simplifies the unit frames down to exactly what I need, nothing more.
Surprisingly, Titan Panel has been added to that "I can't quite function without this" list. I don't necessarily miss it while playing beta, but it took a little extra time for pre-patch updates to be added on live. In that little extra time, it finally sank in just how reliant on Titan Panel I am — I use it constantly on live servers. I can do without it when I'm just testing quests and content, but when it comes to actual gameplay on live servers, I feel lost without it.
Everything else is by and large optional. Yes, I use Deadly Boss Mods — I mean, who doesn't? But I can do a dungeon without it, as long as I read the dungeon guide and get myself familiar with what I need to be doing in each encounter. Total RP 3 is almost a standard on roleplaying servers, but if I didn't have it, I could always just…talk to people. SexyMap does exactly what it says and makes my minimap sexy, but I can make do without it, if I need to.
Thankfully, all of my most beloved addons made it through the update cycle — they're all current and running correctly in time for Battle for Azeroth. But I'm curious, because I never quite realize just how many addons I use until the end of a patch cycle — how many addons are you guys running with? Which ones do you classify as "necessary" — as in the game just doesn't feel or play right without them? Are there any you've had to replace? And if you don't use any addons at all, is there a particular reason for that?