What are you keeping from Legion?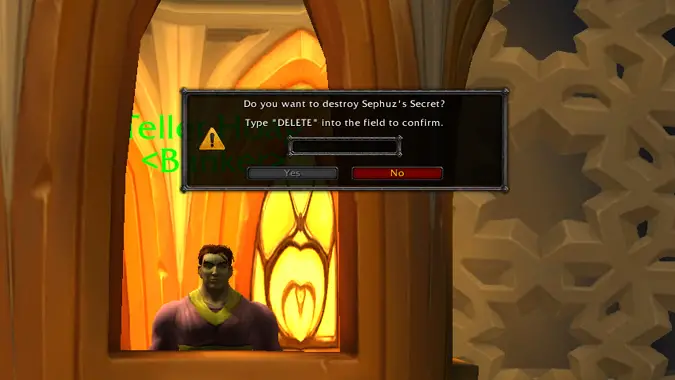 I deleted a lot of legendaries over the weekend. You can do that now, if you don't want to keep them — you'll have to type delete in a popup window, but after doing so they will be out of your bank and out of your life for good. The thing is, they're only going to be effective until level 116 anyway. That's maybe a couple of days of leveling for me — less than that, if I decide to rush to 120 on the main. So anything that isn't immediately viable for the purposes of leveling? Yeah, that can be thrown away. It didn't take any effort to get, so I'm not particularly invested in keeping it.
What I am interested in is bag and bank space, because I know I'm going to need plenty of it once Battle for Azeroth gets here next week. So I spent part of the weekend cleaning my house, and part of the weekend cleaning out my bank and bags in game. My reagent tab is nearly empty now — I have a stack of food for leveling, some potions, a few cut gems just in case I run into something with sockets. My main bank has been cleared of Legion legendaries, save for the two I'm keeping as "just in case" alternatives to the ones I already have equipped. Cosmetic items have been shoved over into Void Storage — you can do that, as long as they aren't classified as Unique. Bind-on-Account armor tokens have been shoved over to a bank alt, just in case I want to use them later.
All in all, I have a lot of space again. I'm sure I'm probably going to fill it up in a matter of hours once the expansion launches, but at least I have room to keep stuff if I need to. And I am hanging on to a few things from Legion, because they're handy. The flight whistle, teleportation items, some cloth pieces I can't transmog, but I can equip for RP if I'd like. And a few random grey items — I think my character is always going to have a Waterstained Tarot Deck in her bags now. There's no real reason for it, I just liked the item. Look, my bags don't always make sense, okay?
I'm wondering, though, how many of you have cleared out your bank and bags so far, in preparation for the next expansion. What did you guys get rid of? What are you keeping from Legion — what's the stuff you just can't bear to vendor or throw away? Are you hanging on to all your legendaries, or are you getting rid of them when they're no longer useful? Are there any strange items you're keeping, for sentimental reasons or some other purpose? Are you trying to auction off all your old stuff, or are you just vendoring it for quick gold? How's your cleanup coming along?