WoW
Aug 13, 2018 3:00 pm CT
These Battle for Azeroth pet memes are everything wonderful about the Internet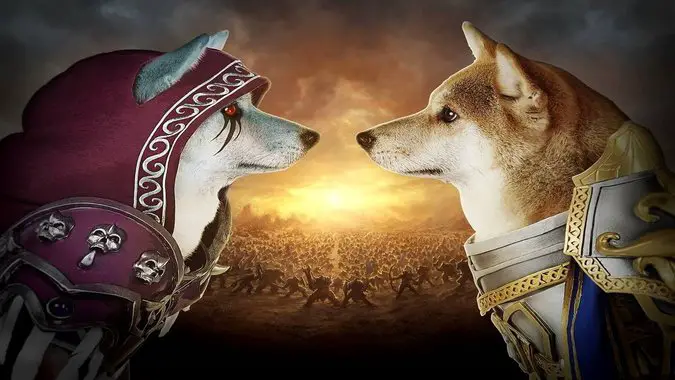 With Battle for Azeroth launching, hype levels are going through the roof! So much so that our furry companions are even getting in on the fun! Blizzard is a company that's known for its very dog friendly work environment, so why should Battle be any different? There's going to be tons of new battle pets and Hunter pets coming, but what about outside the game? Here we have a sampling of everything from pets declaring their faction allegiances, to dogs who are feeling just a little happier about the launch date.
First up, what would make your Monday a little better? Knowing that when Battle launches — this Chihuahua is on board!
3 more sleeps! #BFA pic.twitter.com/KAf7FRVowI

— Perky Pugs (@theperkypugs) August 10, 2018
Next we have the amazing cosplay of Vox the Dog. Blizzard commissioned them for a matching Anduin and Sylvanas set to recreate the box art for Battle for Azeroth. Are you fur the Alliance, or does your allegiance lie down with the Horde?
Who will you follow in the Battle fur Azer-ruff?

🎨 Cosplay by @Outside_the_Vox pic.twitter.com/Oh5pUc5Fuk

— World of Warcraft (@Warcraft) August 10, 2018
The community at large chimed in, making sure that the factions were well represented. I've never seen a battle pet with its own smaller battle pet before.
#ForTheAlliance pic.twitter.com/yQEkyW5vTa

— Zyport (@WoWZyacc) August 10, 2018
Pixel is #ForTheAlliance pic.twitter.com/sMRf3p7RuO

— Shaydee (@Shaydee____) August 10, 2018
When your dog's eye stains inspire a #cosplay just in time for #BattleForAzeroth. Presenting @KodatheDog as #SylvanasWindpupper. @Warcraft #WorldofWarcraft pic.twitter.com/TIfbvOMyw4

— Dallas Nagata White (@dallasnagata) August 8, 2018
We also get a better look at Doggo Anduin and Doggo Sylvanas from Vox the Dogs Twitter feed. I know that I'm rushing out to the store to buy a set of dog sized plate armor that's fit for a king.
Fur the Alliance! pic.twitter.com/SuEZqw0sI7

— World of Warcraft (@Warcraft) August 10, 2018
For the Horde! pic.twitter.com/6heUNU7sLO

— Vox the Dog 🐕 (@Outside_the_Vox) July 31, 2018
Who will you follow in the #BattleForAzeroth? Doggo #Sylvanas or Doggo #Anduin?

Cosplays Commissioned by : @Warcraft pic.twitter.com/HPMgBrV1th

— Vox the Dog 🐕 (@Outside_the_Vox) August 12, 2018
This isn't the first time Vox the Dog has done Blizzard cosplay either. They got their start with Tracer and since then, they've done heroes from all of Blizzards franchises.
Cheers Love! The Calvary's here! Throwback to our first cosplay ever! Have you ever dressed up your pup? Share your #OverwatchDogs with us! pic.twitter.com/w8UCfyzyLE

— Vox the Dog 🐕 (@Outside_the_Vox) February 19, 2018
"No one shall flee my grasp!"

🐺 @Outside_the_Vox pic.twitter.com/KbzFPuinTU

— Heroes of the Storm (@BlizzHeroes) February 8, 2018
If you're not feline the dogs so much, Cat Cosplay has also gotten in on the fun. We get an amazing Orc from them, with a plan to just wait for this whole Horde and Alliance conflict to blow over. Cat Cosplay also dabbles in a variety of other video games, including Overwatch!
"Right… New plan. Take mount. Go to Darnassus. Kill Elves ["Sorry!"], grab Saurfang, go to the Winchester, have a nice cold pint, and wait for all of this to blow over. How's that for a slice of fried gold?"#ForTheHorde#BattleForAzeroth pic.twitter.com/QUMx63cUmC

— Cat Cosplay (@Cat_Cosplay) August 2, 2018
@BrianWFoster it's the never having to reload, and no one being able to run from you that fuels the bloodlust. pic.twitter.com/QtZW5XsrlF

— Cat Cosplay (@Cat_Cosplay) August 1, 2018
Rev up the #Hype!#OWL2018 #Overwatch pic.twitter.com/ljlELzDTaQ

— Cat Cosplay (@Cat_Cosplay) July 19, 2018
@Technomancer49 took advantage of the snapchat filter for Battle, and made sure that his dog was the right shade to represent the Horde.
Orc Dog Baxter reporting in. Give him a battle axe and some battle snax and he'll be on the frontlines. #ForTheHorde pic.twitter.com/rTNa0X6EUW

— Goon (@TechnoOffMain) August 10, 2018
I didn't have any Warcraft merchandise lying around that would fit a cat — but Abathur was nice enough to lend a, well not hand, but something to the cause. This is my cat Bacardi, about half a second from leaping away and hiding under a bed. I have a new appreciation for the pet cosplays and pictures we've seen above. Those are some certified good dogs and cats. (Bacardi is too, he's just not a fan of Zerg.)
Symbiote implanted. You Augmented pic.twitter.com/83iMHJGRFl

— Cory Taylor 💙 (@CoryjTaylor) August 13, 2018
These cosplays might be a bit wild for the stage at Blizzcon, but which was your favorite? Do you have an animal named after one of the characters from Warcraft? Would your pet stay still long enough to pose for these pictures? Let's get some pets out in the comments to see who can represent their faction the best!