WoW
Aug 20, 2018 11:00 am CT
We're cinematic stars in Battle for Azeroth, but these aren't the first cinematics our characters have been in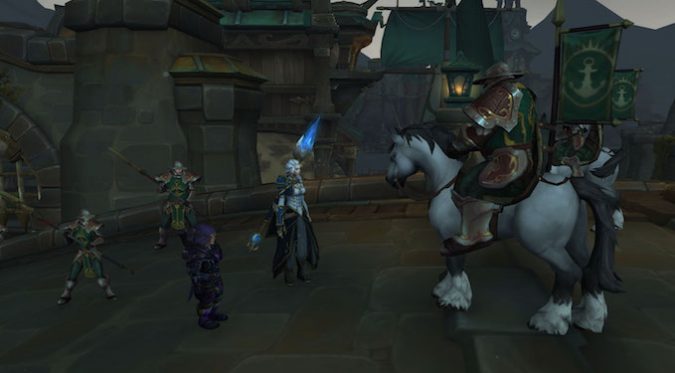 Though it's common today (you'll see me accompanying Jaina through Boralus above), our characters haven't always shown up in cutscenes. It started with the ride into Uldum. Remember that? In order to get into the zone, you went to southwest Tanaris and asked to ride a wagon heading toward Ramkahen. As the wagon train headed out, your character, dressed in its current armor, jumped onto the back of the wagon. Look! It was really you.
Since that time, cutscenes with players have become a staple of questing, events, and boss fights. As we've wandered about Azeroth, gathering gear and leveling our characters, technology has improved along with us. Who can forget that epic moment where players entered the bowels of Orgrimmar and prepared to fight Blackfuse? Alliance met Moira while Horde met Grizzle Gearslip. Compared to that first cutscene on the way to Uldum, our characters have more definition, our weapons have more sparklies.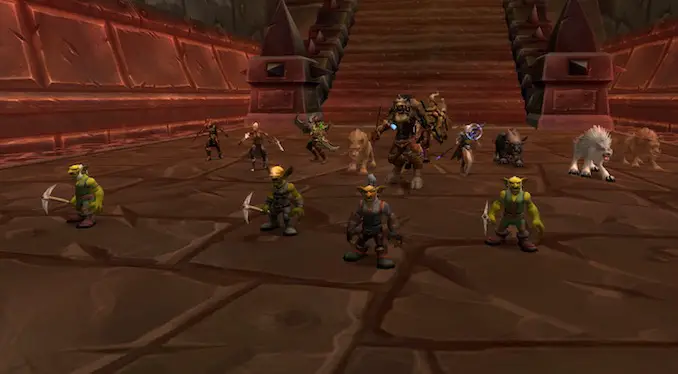 With Legion and now Battle for Azeroth, storyline advancement has benefited from the cutscene and, in tandem, we have turned up in more and more places. We saw ourselves landing on the shores of the Broken Isles. We found ourselves walking up more stairs, running across more platforms, and listening to more NPCs all the while looking at incarnations of our toons wearing what we wore when we entered the dungeon (or raid or zone). It was so cool to see us standing around Magni as he teleported us to meet Argus, and the Artifact retirement quest line really showed players in all their glory.
I don't know about you, but to me it feels like cinematics with players have taken a giant leap forward with Battle for Azeroth. I've seen my character fight in Darkshore and ride the boat to Kul'Tiras. Now, I'm taking the long walk with a downcast, but determined Jaina toward whatever her fate is.
And I shouldn't have worn that helm. Yes, cutscenes with players have some of us critically assessing our transmog. If you aren't online searching for all the cutscenes, you can be forgiven for wondering if what you're wearing will look good with the next walk beside an NPC. (Gimm, you really aren't going to wear that outfit into the world, are you?) The ability to insert our characters into cutscenes and cinematics has given people more opportunities to make their own crazy-looking cutscenes, whether with transmog or toys.
https://www.youtube.com/watch?v=8M2x10nplao
Dangerous, indeed.