WoW
Aug 24, 2018 12:20 pm CT
Warbringers: Azshara delivers a chilling tale of the past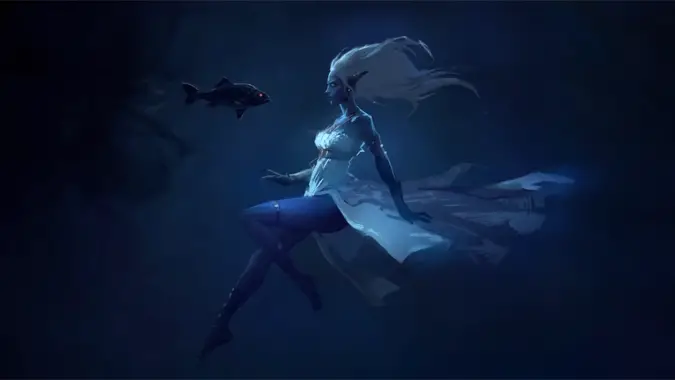 Oh, we're in for it now. The last episode of Warbringers just premiered at Gamescom 2018, featuring a face that earned the adoration of the kal'dorei nation thousands of years ago — Azshara. In the short, we finally get a much closer look at the deal struck between Azshara and the Old Gods, as well as the creation of the naga. But this isn't just a simple tale of how the naga came to be. It's our first direct look at the woman who managed to capture the attention of Sargeras, once upon a time. A woman who sacrificed her people with little care or concern at the very idea of a perfect world, crafted to reflect her glorious visage.
She's a lot more than just a pretty, vain face.
In Warbringers, Zin-Azshari is on the brink of destruction due to the Sundering. The waves are about to come crashing down on Azshara and her beloved Highborne. In a move that shows off just how powerful Azshara is, she manages to hold off the entirety of Azeroth's oceans as the city holds its breath, terrified and prepared for the worst. It's not just the death of her loyal subjects Azshara is desperately trying to stall, here — it's the death of everything she's managed to build for herself. Her power, the adoration of her people, her rank, her prestige…it's all about to come tumbling down.
Here's the thing — despite this innocuous, simply crafted little tale of a bargain struck, there's more to be found here. Azshara doesn't just take that deal flat-out the moment it's offered. She's not interested in just having her life. She wants it all — her kingdom, her people, and all the trappings that go along with it. Azshara isn't just vain, she's incredibly clever. She knows the Old Gods need her. And if she can't have the world in that bargain…then she'd rather die.
Only she knows she's not going to. The Old Gods have been watching her all along. They know exactly what she's capable of. And they need her, whether they'll admit that up front or not. That's all the leverage she needs to establish her position — which is why, instead of panicking the moment the Old God disappears, she simply waits. She knows it has to accept her deal, because again…it needs her.
It's the kind of stone-cold negotiation that points to a villain the likes of which we haven't seen before. Deathwing was one thing — he succumbed to the whispers of the Old Gods and went a little bonkers in the bargain. Azshara is another. And if we thought fighting Deathwing was difficult…well, I can't wait to see what it looks like when we have to face the Queen of the dark below.