WoW
Sep 12, 2018 1:00 pm CT
Voice Actress behind Scrollsage Nola made it to Twitter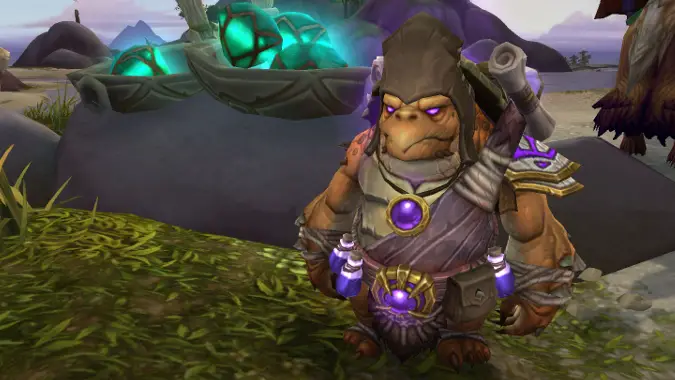 It's only been about a month since launch, but we already know the most enduring character of Battle for Azeroth will be. While Jaina finally reuniting with her family is sweet and N'zoth still haunts my nightmares, there's one character that reigns above them all. Tortollan Scrollsage Nola and her varied Beachhead world quests became instant classics because of one voice line: "A turtle made it to the water."
Here at the blog we're well aware of the incredible things voice actors can do. Watching Darin De Paul go from his normal tenor speaking voice to the deep, forceful baritone of Reinhardt in Overwatch alone is just… how, though. As such, we figured the slow, aged-sounding voices of the Tortollans were done by their usual voice actor suspects changing their affect a bit. According to Blizzard casting director Andrea Toyias, this isn't the case for all the Tortollans. Scrollsage Nola was voiced by an actual 78 year old woman named Maryann Strossner. After a bit of coaxing, Andrea met up with Maryann in person and helped her get on Twitter.
Guys!!!!! I met Maryann at a local coffee shop and we spent the last hour getting her set up on Twitter! She can't believe how much you love Nola! I can't believe she accidentally sat at a table covered with turtles. My heart exploded when I saw her! @maryannstrossn3 pic.twitter.com/YxL3gSean3

— Andrea Toyias (@AndreaToyias) September 9, 2018
Apparently Maryann took one of Andrea's workshops a while back, and when a race of ancient turtles came around in need of voices, Andrea knew just who to call. Maryann seemed a bit overwhelmed by the outpowering of love for her and Nola when she joined, but she's been going back and responding to her well wishers. Andrea noted in replies that many people would likely be inspired by the story of how Maryann got started with voice acting later in life.
Maryann doesn't seem likely to be incredibly active on Twitter going forward — after all, Tortollans move pretty slowly. However, she's still one of our favorite new people to follow whether it's on Twitter or on the water.