I love oddball trinkets — but which in the game's long history of oddball trinkets is the best one?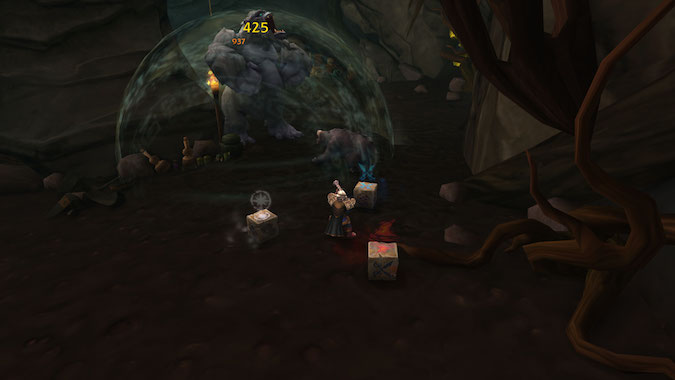 Trinkets, the bane of most every adventurer's existence. In all the years I've played, I don't think I've ever been completely raid ready — all for the simple reason that one (or both) of my trinkets had a lower item level than all my other gear. Battle for Azeroth hasn't been, for me, as bad as past expansions. And what I've been exceptionally excited about are the visuals when trinkets proc or are used.
The picture above is what happened when you get a proc from Harlan's Loaded Dice. It was a huge upgrade when I got it. The first time the dice proc'd, I wasn't sure what I was seeing. Then, it happened again and, oh wow, this is so cool! I have to admit to trying to figure out if the images appearing on the top of the dice were some sort of code for which combination of Haste, Mastery, and Crit was applied. Perhaps one of you has figured it out, but I gave up. This trinket was one of my favorites. I just replaced it with My'das Talisman. I haven't seen my hands turn gold, yet, but I have to admit, I'm not looking at my hands while mashing keys.
And then there's Touch of the Void, seen below.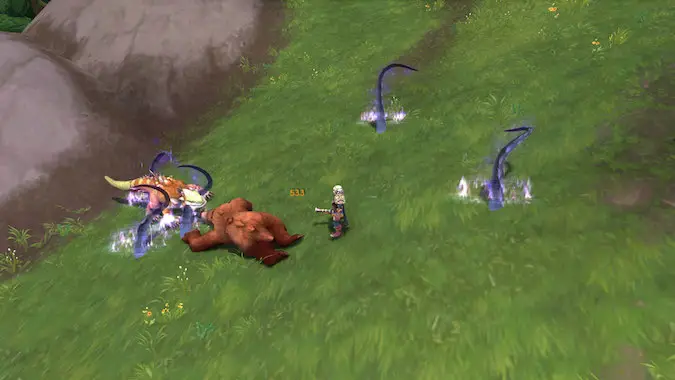 Many of you probably had this. In order to get the special animations, you had to click the trinket… or just macro it into your rotation. At the time this was popular, we had three people raiding with this trinket. If they all hit the "use" button at the same time during the same fight, you had tendrils everywhere. The effect was amusing — and sometimes frustrating, if you thought you were being attacked but couldn't target a tendril.
I like having these kinds of fun, funky animations. You can go all the way back to Classic WoW to find some great trinkets such as the Golden Hare, which gave a run speed increase (all the better to run myself off a cliff); the Barov Peasant Caller, which summons three servants to fight for you; or, my personal favorite, Gus' First Aid Kit.
A couple years ago, Game Director Ion Hazzikostas's answer to a question about a need for increased bag size, was, "We need to figure out why people are filling up the bags we have in the game." You know why? For me, one reason is because I save all these trinkets with cool visuals. I have at least a dozen in Void Storage and another 10 scattered through various bags in my bank. It's like other stuff I have which is neat. Some of you may immediately, vendor, disenchant, or scrap your old trinkets. The dice one is in a bag in my bank.
I would love, love, love some way to update my trinkets so I could equip Gus' First Aid Kit again for something other than, "Hey guys. Watch this." So tell me, what's your favorite trinket and would you pay gold to update it so you could continue to use it or is it better left in your bank?