This Hammond Overwatch Easter egg is the cutest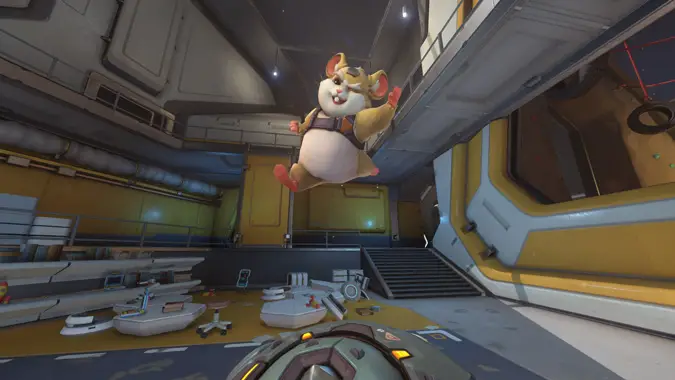 Hammond isn't just the newest hero to hit Overwatch, he's easily the most adorable. Yes, I said it. Fight me. But one of the fun things about Overwatch is the Easter eggs found throughout its various maps and locales. Busan has a few for players to hunt down, including an interactive dancing game, as well as Reinhardt showing off his singing skills in the karaoke room. And of course there were the litany of Easter eggs to be found during the hunt for Sombra in Blizzard's slightly less-than-well-received ARG.
But we're talking about Hammond now, and it turns out the little space hamster has an Easter egg all his own on the Dorado map. Players are well familiar with Dorado's bells, which have been shot at numerous times over for some impromptu pre-match music. There are several bells available to ring throughout the courtyard, but you'll only need four for this trick — the three above, and one off to the side on the right. Ring them in the correct order, and you can knock out a riff on the Overwatch theme. And if you have Hammond do the honors, he'll happily finish the tune with all the enthusiasm he can muster. You can check out a video of Hammond's little trick over on Reddit.
Turns out Reinhardt's not the only hero with pipes. Although Hammond isn't officially a member of Overwatch, he's apparently enough of a fan of the organization to recognize its theme. Apparently just Hammond carols along with the tune — players have tried recreating the Easter Egg with numerous other heroes to no avail. You'd think at least Winston would have something to say, or even Tracer for that matter, right?
It does make me wonder, however — are there other tunes that can unlock Easter eggs on the Dorado bells? Players have been fiddling with the things ever since the map was introduced. Much like sinking basketballs or smashing up arcades, it's just something to do while waiting for a match to begin. Hammond's enthusiastic singing is adorable, but I still find myself wondering just how many other Easter eggs are out there waiting to be found, and which enterprising individual is going to unlock them, given enough time. If there's one thing to be learned from all of this (beyond the scope of Hammond's cute factor), it's that exploring and poking around in Overwatch is just as fun as playing the game. So keep looking around — who knows, you could discover the next hidden surprise yourself!