Guillermo del Toro would approve of this Overwatch Doomfist Swamp Monster skin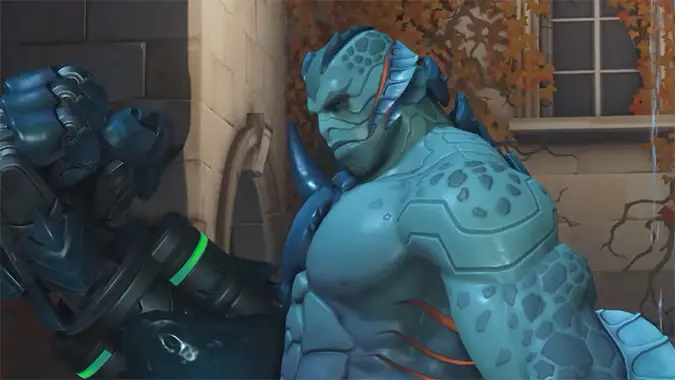 Call the new Overwatch Doomfist skin Swamp Monster or Doomfish, but we all know it's a direct reference to Guillermo del Toro's 2017 film The Shape of Water.
He's a bipedal fish monster with gills and scales and is a dark aquamarine color that's not unlike Doug Jones' Amphibian Man in the film. The differences are pretty big of course. Doomfist has a large fist, many muscles, and a very violent mindset, but it's hard to not see the heap of similarities regardless.
Just keep swimming.

Make a splash as SWAMP MONSTER DOOMFIST (Legendary)!

Overwatch Halloween Terror begins Oct 9! pic.twitter.com/aR4EC7Jmn7

— Overwatch (@PlayOverwatch) October 3, 2018
The Legendary skin will cost you 3,000 credits when it launches with the Halloween Terror 2018 event next Tuesday, October 9, which we'll be streaming on our Twitch as soon as it goes live. The event will feature a variety of new cosmetic items as was pointed out in the most recent developer update, as well as a new spooky-themed Chateau Guillard map. Everything from the previous two Halloween Terror events will return as well, including the Junkenstein's Revenge PVE Arcade mode.
If you look carefully at the tweet that revealed the skin today, you can see that Doomfist is standing in the new map, which is currently a deathmatch-only map. A few weeks ago, when the PTR went live, an achievement for the new event was viewable with six portraits of what looked to be new skins. It seems like one of them was the Swamp Monster skin, but there's five more to be revealed still. Many players are speculating about whether or not the map will also host a new Junkenstein PVE mode that possibly features a different set of heroes to play as and against, including Junkenstein's Bride.
We won't have to wait that long to find out what's new in the event, especially since it seems like Blizzard will tease the new skins over the course of the week leading up to it like they've done with previous events.
What skins are you hoping to see and what are you most looking forward to in the event?