If you were an NPC, what would you drop when players killed you?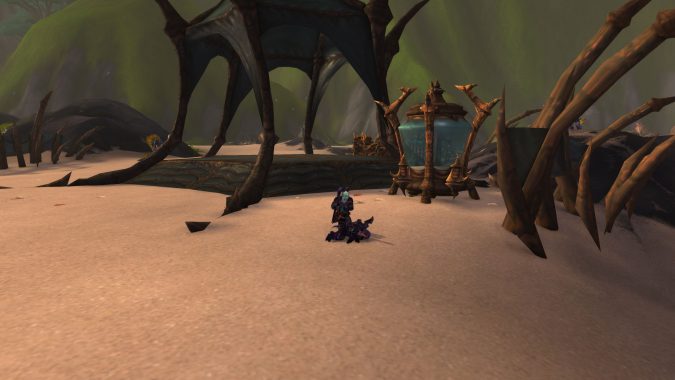 No, it's not too early in the morning for a question like this. On August 27, Ben Porter (@eigenbom) asked the question, "If you were an NPC, what items would you drop when killed?" Never one to not take up such an open-ended question, I'll give you some of my guild members' answers to get you thinking.
"I'd drop useless grays like a worn-out knee cap and empty pockets."

"Edible catnip which would cause any cat to come running to knock you down and roll on you; a pink monkey arm, and a tea bag."

"Cat battle pets, books with suggestive titles, and exactly 4,000 potions–none of which are very useful."

"A toy which occasionally explodes and a book entitled 'CapS LOck aNd yOU' which, after reading, causes your statements to be broadcast in a random channel, never the channel you want them in."

"A gift card for 365 visits to Tigule and Foror's for free ice cream; or a gift card for 365 cups of Kaja Cola."

"A keyfob which unlocks random locked doors all across Azeroth, but it only works some of the time."

"Noncombat spiders and snakes."

"A toy which replaces what you say with overly complicated techno babble and random math equations."
Me? After a discussion in guild chat, it was decided I would be a mini-boss. You'll find me under a table in one of the bars in Ironforge or Orgrimmar. It's better not to ask how a Dwarf got under a table in a bar in Orgrimmar. I'm currently asleep. In order to wake me up, you'll have to have 11 different alcoholic beverages in the bags of your party members.
Why 11? Because it took 11 years to get that Swift Brewfest Ram. You have to click on the brew and click on me, which will give you the action of pouring said brew over my head. Of course, this is wasteful and I'm going to have to take action agains' ye. Guild members suggest you watch out for the "stern talking to" attack — which is a stun — and that you interrupt me whenever I try to "pull out my finger to shake it at you."
What would I drop? There aren't enough ram battle pets, so I'd drop two different colors — tan and white. There would be a useless foam finger, a soggy pillow, a pair of glasses which don't stay on your nose, a bear figurine, a book of random words (each page containing one word), and varying amounts of coinage, ranging from 11 copper up to 111 gold. I'd spawn every 11 hours — and the pets and the high gold amount would have a 1.1% chance to drop.
Poof. You're now an NPC. What would you drop when we kill you?