One of the Overwatch Halloween Terror skins is Pharah without a head
Click here for more photos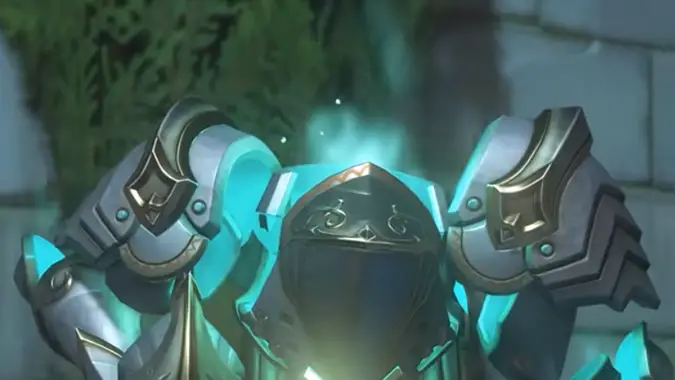 Blizzard has announced skins for the Halloween Terror 2018 event on its social media pages for the past week, and we've gotten some great surprises, including the headless, Enchanted Armor Pharah skin.
Pharah is no longer Fareeha Amari, she's just a haunted set of armor, which has sparked a ton of fan art, including one of my favorites that jokingly theorizes that, with no head, she can't be headshot by Widowmaker. The Enchanted Armor skin is a Legendary tier skin and will cost you 3,000 credits when it launches with the event tomorrow. I need to buy it and equip the Mission Complete highlight intro to see her pull the helmet off to reveal nothing beneath.
Next, we have the Legendary Jack-o'-lantern Wrecking Ball skin which turns Hammond into a creepy little beast that controls a giant pumpkin. It's cute and terrifying at the same time, which sums up what it's like to play against Wrecking Ball in the game. I'm really curious what Wrecking Ball will look like rolling and swinging around the maps as an orange ball.
Now it's time to get PUMPED up!

Squash your enemies as JACK-O'-LANTERN WRECKING BALL (Legendary)!

Overwatch Halloween Terror begins Oct 9! pic.twitter.com/fswMQFP2gY

— Overwatch (@PlayOverwatch) October 8, 2018
Two new Epic level skins will come with the event including Spider Widowmaker and Undead McCree. Spider Widowmaker turns the sniper into a purple and black lady with webs all over her outfit. Some may think it's incredibly on-the-nose, but I think it's fun and dorky enough to fit with a lot of the other skins in the game. Undead McCree is no different. This skin turns the revolver-toting man into a green zombie monster. He has a skull kerchief on and his belt reads "DAMF" for anyone that was wondering. Both skins will cost you the increased event price of 750 credits, but of course you can also cross your fingers and hope to get them in your loot boxes.
Halloween Terror 2018 launches tomorrow and will bring with it a ton of new skins, like Banshee Moira and Swamp Monster Doomfist.