Overwatch's new Banshee Moira skin screams with Halloween Terror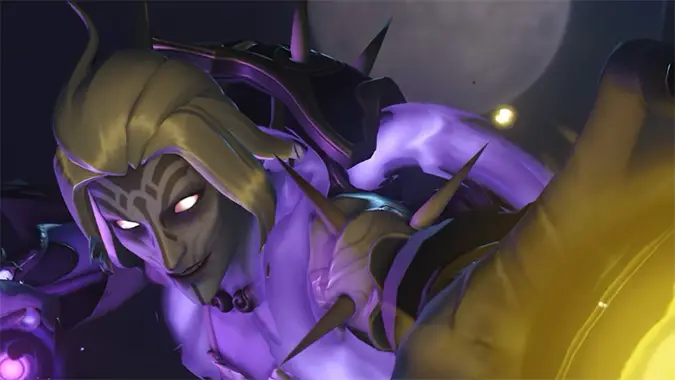 The new Overwatch Moira Banshee skin for Halloween Terror 2018 had better let her scream or sing like the mythological creature she's based on or I'm upset.
As you should already know, Moira O'Deorain, one of the game's support heroes, is a 48-year-old Irish geneticist. For Halloween this year, she isn't going to simply dress up as a Irish folklore Banshee, she's going to become one. You can buy that Legendary skin (for 3000 coins) when the Halloween Terror event goes live next week — which we'll be streaming live on our Twitch!
Here's some things you should know about banshees, no, not that banshee. Irish banshees are female spirits who communicate the incoming death of a family member by wailing, shrieking, or singing. They're described in many different ways, but one way includes long hair, a grey cloak, and red eyes from a bunch of crying. The new Moira skin looks pretty close, but like I said, she'd better have unique voice lines for shrieking or singing.
An ominous portent.

Haunt down your enemies as BANSHEE MOIRA (Legendary)!

Overwatch Halloween Terror begins Oct 9! pic.twitter.com/wqVYQHd64P

— Overwatch (@PlayOverwatch) October 4, 2018
Imagine if during Moira's ultimate Coalescense she just screamed for its 8 second duration. Not only would I pick up those golden wrist weapons in an instant, but I'd become a Moira main. I'm already thinking about playing more Doomfist with the upcoming Swamp Monster skin.
All of this goes live next week with the usual Halloween Terror event stuff from previous years, including the PVE Junkenstein's Revenge event. Like the last skin tease, Banshee Moira is on the new spooky-themed Chateau Guillard map, which might suggest a second PVE event. According to an achievement for the event on the PTR with icons for what look like new skins, there are four more to be announced. As always, though, there will be a whole pile or new cosmetics for each of the game's heroes even if they weren't lucky enough to get a skin this year.