Which old achievements are you still working on? And why are you still working on them?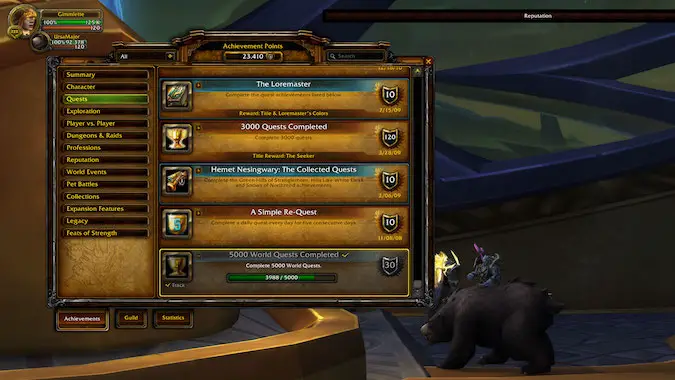 I adore achievements. I like the flash of yellow on my screen and the pop-up announcing what I've just done. From the above screenshot, you can see I have over 23,000 points. I'd have more but quite a few were moved to Legacy or Feats of Strength and therefore scrubbed from my total with Battle for Azeroth. We achievement collectors were not happy about that.
Periodically, I go through my achievements to see what I have and what I can work on. I finished Kul Tiran Menu. Didn't realize there was an achievement for that until I looked, although I should have. That led me to looking at Legion cooking, and I realized I hadn't finished The Legion Menu. Why didn't I have these? They were quick and easy to do once I realized I was lacking them. Of course I'm out in the BFA world, killing rares, cooking, herbing, running dungeons, raids — all those things you do when you're playing normally — which happen to have achievements attached to them. I tend to be partial to the ones which show up when I'm not expecting one. "Oh! There was an achievement for that!?"
I do have to come clean, though. I like having a large number of total achievement points. That number represents a lot of time spent doing things — meaningless or otherwise — within the game. I've been around a while so it also represents a lot of game time — we won't mention what my /played says. While that number is large, there are always achievements out there waiting for me to finish. There are some I'll never get, particularly if there is any jumping involved to obtain them — here's looking at you Platform Hero. I don't know what it is. I just can't seem to jump properly. (For the record, I do know how to do it. It's the jumping part I can't seem to handle.)
I decided to go backwards and work on finishing up some old achievements. You can see I'm still going to the Broken Isles to work on 5,000 World Quests Completed. That's within my grasp. I don't think I'll work on the 10,000 World Quests Completed achievement after this, in spite of the amount of gold one can get from doing these. I'm also working on killing 5,000 demons for the And We're All Out of Mana Buns achievement, which is thankfully the last in the achievement chain for killing demons on Antorus. Going even further back, I don't have Bloody Rare, nor either of the flying/bombing quests from Burning Crusade. The latter two are a matter of just not attempting them. With faster flying, I can probably get them reasonably easily — but I don't plan on making an attempt to head to Outlands.
Are you going back to old content to pick up achievements from other expansions? What non-BFA achievement(s) are you working on right now, if any? And finally, confess — what achievement could you probably get, but just haven't?