Orphea, Heir of the Raven Court is Heroes of the Storm's first original character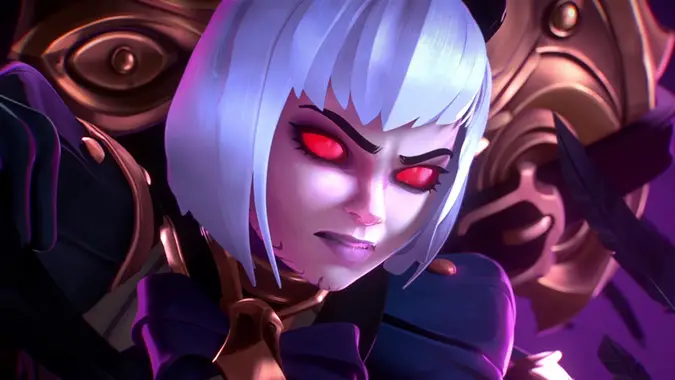 Heroes of the Storm is adding the first wholly new character in its line-up: Orphea, the Heir of the Raven Court on November 13th. She's a mid-range assassin that looks like a blast to play. Highly mobile with punishing area of attack abilities, she's going to be tearing up teams that play bunched up. First introduced in the comics Orphea is the daughter of the Raven Lord. She has become fed up with her fathers warmongering, and pacts with dark powers. Confronting him, Orphea takes up arms –and teeth– against him to protect the Nexus.
Our first look at what she can do is amazing. She faces off against her father in a beautifully animated cinematic, and the shadow magic starts to fly. There's a blend of animation styles as they face off, where all of her abilities are flat animations paired with the 3-d character models. Sadly — she doesn't get the giant fist attack in the game.
Heir of the Raven Court
Orphea's design is amazing. I'm stunned at how good she looks. If this is the quality of new heroes added from outside of Blizzard's established games, I'm sold. Having the weighty backpack coffin to give her an asymmetric look is great and lends a sense of power to her attacks. All of her abilities have a very heavy hitting feel as well. The claws and teeth that she summons all look like they're ready to take a chunk out of the heartiest tank — if not outright swallow them whole.
She's a combo based hero, gaining a damage and life-steal buff after hitting enemy heroes three times with abilities. Her basic Q ability shadow waltz gives amazing movement, adding a dash after every cast. Pinning Orphea down is going to be a full-time job. I don't think that she'll have the bruiser strength that we see in assassins like Thrall or Xul, but definitely won't be someone as fragile as Li-Ming. In what is possibly the most aptly named ability ever, her W ability is called Chomp. It does what it says on the package, summons a large mouth that chomps in the area right next to her. If you're tired of pesky heroes like Sylvanas or Maiev running away, her E ability will allow you to leave a nasty surprise for them on the other end. Dread casts along a line dealing damage, and bursting at the end for extra damage and a slow. If you talent into it at 16, you'll even be able to cast chomp from the terminus.
Orphea is going to be a nightmare to play against. I can easily see how punishing her abilities are going to be for teams that make even a small mistake. They're all AOE and have huge combo potential. If you can catch a team coming through a choke point towards an objective, it looks like it's going to be game over. If you're facing her, make sure you spread out and make sure you get her stunned. She's going to be dashing all over the place otherwise.
We're also given our first teaser for what to expect from the Heroes in-depth panel. Leoric gets his long-awaited janitor skin, and a bar of soap to ride on. Kevin — who you'd recognize as the voice of all the hero spotlight videos — will also be the first real-life person to get to be an in-game announcer. They also tease updates to everything from catapults, XP gains, and armor. It should be a great panel. Check back later today for all the information on that! When she releases on November 13th, Blizzcon Attendees and Virtual Ticket holders will get her for free. I can't wait to chew through the Nexus with her!