What was your favorite thing from day 1 of BlizzCon 2018?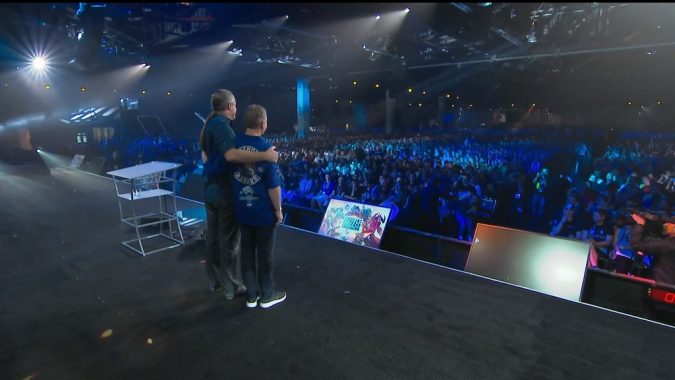 Usually when it comes to BlizzCon the main draw are the flashy announcements and plans for the future, but for some reason this year the things that are sticking with me are the fan experiences.
Don't get me wrong, I'm going to pick up Ashe ASAP — Overwatch's newest hero is my kind of dame from the tip of her asymmetrical bob all the way down the barrel of her gun. I'm also one of the people excited to play Diablo: Immortal, since a lot of my gaming these days is done while I wait for my daughter at swimming lessons or Girl Scouts. I'm a little nervous but it'll be neat to see the adaptation to the mobile platform, especially since this would be an ARPG I can play without giving myself repetitive stress injuries. The WoW panel was honestly so nuts in terms of coverage I'm still sorting through the wreckage — did y'all know there's a roller coaster now?
There were tons of new things announced that I'm excited to play, but just having rote gaming announcements alone isn't what makes BlizzCon the unique celebration it truly is. The things that are really sticking with me are the moments where we got to come together.
The huge, huge cheers when Maryann Strossner said her famous line, "a turtle made it to the water," during the voice acting panel. Darin de Paul handing out "CANDY!" again this year, and getting hugs from everyone he could. Matthew Mercer showing his inner WoW nerd during community night immediately after Thunderfury, Blessed Blade of the Windseeker performed — and doing it in time with our Blizzard Watch liveblog. Laura Bailey — immediately after the voice acting panel where she plainly said she hated singing in front of people — giving us an amazing, emotional live performance of Daughter of the Sea.  J. Allen Brack standing side by side for a beat or two with Mike Morhaime during the opening ceremony, taking in the community he built one last time as they figuratively passed the torch.
I'm tearing up a little bit just writing about it.
What about you? What's your favorite memory from day 1? Is it the games, the costumes, the people? Are you ready for day 2?