The Queue: cool guys do their best to not look at the explosion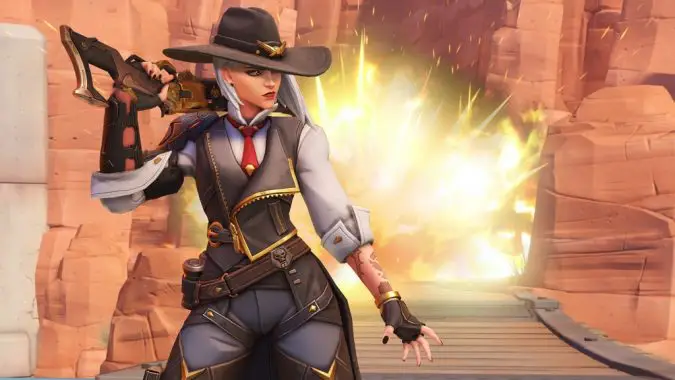 This morning I've prepped three loads of laundry, cleared the entire sink worth of dishes, emptied two Halloween buckets full of wrappers — Halloween was less than a week ago — and I still have to write at least one more article about BlizzCon esports. I feel like I've aged five years in the past three days. Like Rip Van Winkle, I need to brush my hair and answer a whole lot of questions.
So, this is the queue. Let's get to it.
---
ENO ASKED IN THE QUEUE
So who else enjoyed their extra hour of sleep? I know I did.
[laughs in parent]
I was up til almost 2 doing BlizzCon reporting, then my toddler woke up asking for "mommy mommy mommy" at 6:30, so I got 3 hours of sleep Sunday. Daylight Savings is an April Fools' joke. Follow-up statement: I may need more coffee before I get into this queue in earnest.
---
ARCHMAGE RC ASKED ON DISCORD
Q4tMonday Queue: What Blizzcon announcement was your favorite?
In terms of the announcement itself, Ashe from Overwatch. We got a full Ashe vs McCree cinematic short, then we find out Ashe is also the next hero? Love it. Though Brigitte was sort-of foreshadowed in the Reinhardt cinematic, we've never really gotten a full on video where we fall in love instantly with a character, then we get to actually play that character and her companion, complete with Jennifer Hale bellowing the line, "B. O. B., do somethin'!" in both.
In terms of playing — I'm honestly a little scared for the Tuesday queue writer right now — but I'm one of the few people who's actually super excited to play Diablo Immortal. Before y'all get started in the comments, yes I'm serious and no I'm not a paid shill. Like Darin de Paul I played the living daylights out of Diablo 2, but by the time Diablo 3 rolled around I was managing my own pre-Blizzard Watch fansite and I just had my daughter so I had zero time to kill demons. I'm at the point now where, between getting older and typing out hundreds of game-related words a day I literally can't play ARPGs for more than an hour or so at a time. I played Torchlight II for a lousy 2 hours a few months back on my personal stream and my hands were literally numb for days afterwards.
Yes, I'll probably limp and scrape my poor fingers through some difficulty level of a PC-only Diablo 4 — as was heavily hinted at over the weekend — but holy hannah it's gonna be tough for me physically. I've also gravitated more toward mobile games since I had my son, specifically roguelikes like Pixel Dungeon. If Blizzard makes it possible for me to scratch that more hardcore itch without making it tough to literally do my job, it'll be so nice. I understand completely why people are super, super disappointed by Diablo Immortal being on mobile, but personally I'm excited to give it a try. No, really.
Sorry, Tuesday queue.
However, that said…
---
BUCKWYSTER ALSO ASKED ON DISCORD
Q4tMonday Queue: What Blizzcon announcement or reveal was the most disappointing?
First of all, I honestly don't even remember what they announced for StarCraft. I think they added another co-op commander and maybe a new announcer, but I was honestly more excited for Twitch Plays StarCraft than I was for anything they announced.
But yeah, the most disappointing announcement was Diablo Immortal. Yes, even though I'm excited to play it. Scott F. Andrews wrote an excellent editorial about the PR nightmare that contributed to that announcement going over like a lead balloon. Even as someone who's not necessarily a diehard for Diablo, the panel order alone plus their bizarre string of announcements trying to get everyone excited then derail the hype train had me going full on Pepe Silvia. I thought the big thing they were gearing up for — but wanted to pop the hype bubble on — was probably Diablo 4, but maybe all they had was the logo and not much else to show. Maybe a vertical slice for the panel, with a single hero and a half kit in a relatively untextured zone but nothing really playable. But a mobile game? What?
I'm also one of those people who hates awkward moments, and I simultaneously wanted to offer Wyatt Cheng a cup of cocoa and sink into the floor on his behalf. His secondhand embarrassment and disappointment alone made the whole thing just awful.
You know, kind of how I feel for the Tuesday queue writer right now — I'm so sorry.
---
LOTS OF PEOPLE…
…discussed how "cool" Malfurion Stormrage is after the new cinematic.
His name is literally Bad Angry Stomp Angry and neither I or you can ever unknow that now.
---
FLANAGEDDON ASKED ON DISCORD
Q4tq: how often do you catch yourself singing Daughter of the Sea?
I have a lot of interests that only rarely coexist with gaming. Huge shock, right. It doesn't really come up all that often around this side of the venn diagram, but I used to do a ton of theater, musical and otherwise. I also played the oboe and piccolo in high school and took courses in musical performance so I have both an ear for pitch and the vocabulary to discuss it pretty well.
With that in mind, it should come as no surprise that I freaking live for Daughter of the Sea. It's incredibly theatrical and great for performance, but easy to stay on-pitch both a capella and backed by a recording. It instantly joined Anna's Big Playlist Of Emotional Songs To Belt alongside Burn from Hamilton, For Good from Wicked, I Dream A Dream from Les Mis, Moments In The Woods from Into The Woods, Mama Who Bore Me from Spring Awakening — let's just say there's a lot going on with this playlist and Daughter of the Sea is a perfect fit.
Again, Tuesday queue writer — I'm really sorry.
That's it for the Queue today. Can y'all do me a favor and stay civil to each other in the comments today? I know we've all got a lot of opinions, and you're free to discuss them maturely, but I'm going to be wearing pajama pants to go vote tomorrow if I can't get some of this laundry done. The post-BlizzCon chaos is real, and I'd appreciate it if you please try to be a little kind to each other so can do something other than moderate the comments section.
See you next time, provided the explosion doesn't get me first.