Lucio Ohs are great for breakfast, baking, and a sugary speed boost
Click here for more photos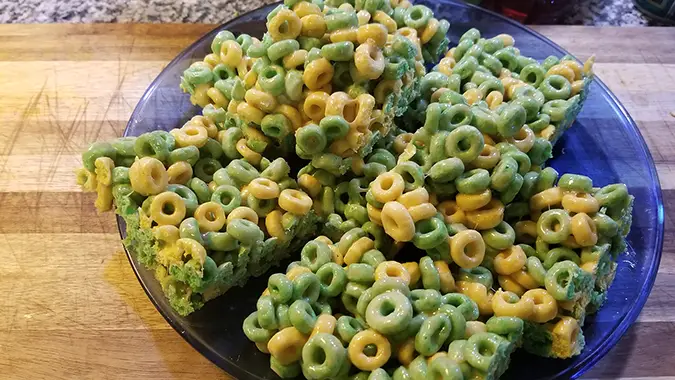 Yes, Lucio Ohs cereal is delicious. Yes, I include a baking recipe. Yes, there will be many Lucio puns. After all…this is my jam!
First, a personal story. I spent an inordinate amount of my time at BlizzCon trying to get my hands on a box of Lucio Ohs, the vanilla-flavored, Cheerios-shaped, Overwatch-themed breakfast cereal coming to U.S. stores next month. Because their upcoming release would be limited to America only, the only boxes being given out went to international press. But thanks to Blizzard Watch reader Ocy Ycoy aka Krucíal of the <Shields Up> guild on Stormrage, I got my greedy hands on a box of the good stuff and can bring you my impressions and misadventures now.
Now for the sugary verdict. For a bowl of cereal, they are actually tasty. I think the vanilla flavoring helps. Otherwise, they are the candy-colored sugar bombs that one expects of American cereal brands. If you really want to — wait for it — amp it up, throw in some sliced strawberries or other fresh fruit to complement the vanilla flavoring of the cereal.
The box has fun things activities on it. A Lucio coloring book figure which you are encouraged to photograph and share on social media. Also a reminder to download Lucio's new album online. You can also take a picture of your receipt as proof of purchase and send it in for a free Overwatch lootbox the next three times you level up in the game.
Lucio Ohs Marshmellow Bars
But the most fun I had with Lucio Ohs was making marshmallows bars out of them. How did I make these? Well, let's — ahem — break it down! I followed a basic no-bake Cheerios Marshmallow Bar recipe and used colored marshmallows to stick with the color theme of Lucio Ohs. Boy, that was a mistake. I thought I was going to — you know — turn up the volume on the fun, but instead it turns out Easter egg colored marshmallows melt together to form a sickly greyish goo. Tasty, though!
The picture gallery above has pictures of the Lucio Ohs box as well as steps in making the marshmallow bars.
Bottom line: If you like sugary cereal, Lucio Ohs are a tasty treat. If you don't, may I recommend Reinhardt's Muenster Cheese Spread with Pumpernickel Toast. It will lay the hammer down at your next party. Ok, I'll let myself out now.