Playing a Warrior in WoW Classic? Here are some talent builds to try.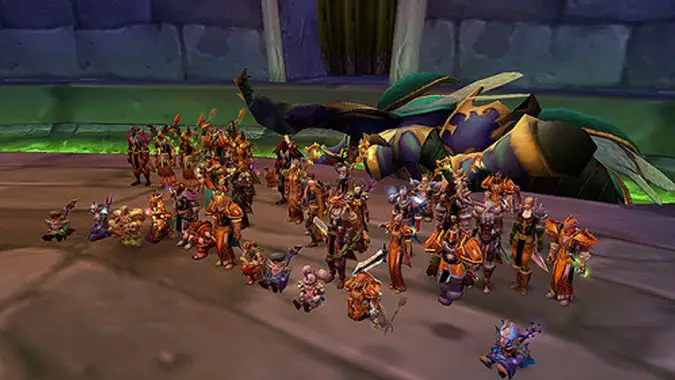 If you're serious about playing WoW Classic as a Warrior, you're probably looking at those talents and wondering what to do — especially if you didn't play in Vanilla and have no idea what all those talents are. Well, I did play in Vanilla — in fact, I talk about it way too much as one might expect of an old crotchety sort who wants these kids off his lawn — and so now you get the chance to profit from my barely healed trauma as I talk about the popular talent specs that Warriors used back in the day, just in time for you to climb on up into WoW Classic when it comes out.
This is not going to be a talent by talent breakdown, although I might well sit down and write one of those if there's interest. This is me giving you a look at various talent builds you can adopt once WoW Classic is out, and get an idea of what to aim for. In general, while leveling you should use your primary talent tree as your first one to spend points in — get up the tree to 31 and that big, primary attack (Mortal Strike, Bloodthirst or Shield Slam) as fast as possible. That's a spec defining ability and you want to get it ASAP. From there, you can start spending points  in the other trees.
Let's take a look at the builds.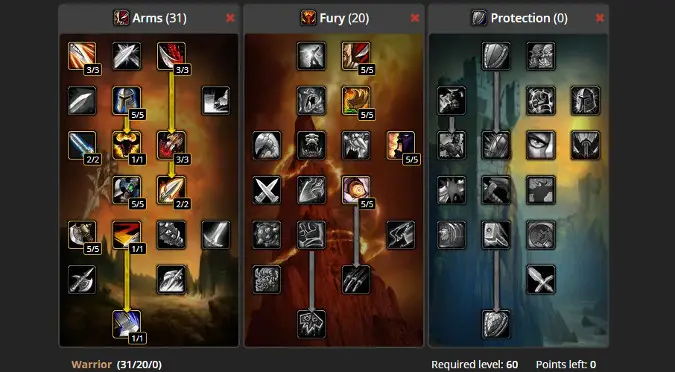 Damage
The Selfish Arms-Fury 31/20 build. This build is all about a 2h weapon. It hasn't made any concessions to expecting to tank, and it's purely about doing as much damage as possible with a 2h weapon, specifically a sword in this case for the Sword Specialization chance to proc another attack. This build could easily change based on what the best 2h weapon you happened to have access to is — most players would probably use Axe or Polearm spec since those seemed easier to get than swords. This particular spec doesn't even use Deflection, which is a decent survivability talent, choosing instead to focus on Improved Overpower for more crit chance when dealing with annoying Rogues trying to dodge everything you do. This is as close to a glass cannon build as Arms Warriors ever got, back in the day. Arms with proper gear for the time (basically, the best PVP gear or raid gear from BWL or up) would go with this spec and just annihilate people in BG's, trusting in a pocket healer to keep them alive long enough to ruin people's days. If you saw an Arms Warrior with the Might of Menethil and Mace Spec, you knew you were in for a bad, bad time.
The Frantic Fury — Arms 11/Fury 40. This is the classic DW Fury build. There are variants, of course — there were always variants — but this is a standard build that makes sure to get Bloodthirst, full Flurry, and Improved Heroic Strike. Many a Fury Warrior hated those 2 points in Deflection, but there was no way to move down the Arms tree without them. Quite a few Warriors used this variant, that traded away the Improved Berserker Rage talent for Improved Intercept. I was a 2h Fury, but I raided with quite a few Fury Warriors who loved Imp Intercept.
Slam Fury Build — 19/32 or 20/31 Fury. This build comes in several varieties. This one makes sure to get Bloodthirst, the signature Fury attack, but it doesn't include Improved Execute and it doesn't have full 2h Weapon Specialization from the Arms tree. This variant, which is the one I used, doesn't go full into Improved Slam so the cast time is a bit longer, but it has Improved Execute and full 2h Weapon Specialization. You can do without Bloodthirst entirely if you prefer, and still get Improved Slam, Flurry, and 2h Weapon Spec all maxed out, which some players preferred. All of these builds used 2h weapons in PVE content, as Fury was basically untenable in PVP, although I still did PVP in my variant of the spec. By the end of classic WoW my gear allowed me to do fairly well, but it was a handicap and I knew it.
The Mixed Blessings
Jack of all trades — Arms/Fury/Protection 31/5/15. This build was the meat and potatoes Warrior build of classic WoW. This was the build you picked if you were going to do some tanking, some PVP, and you weren't the main tank of your raid guild or just didn't want to have to switch specs around constantly. It does a little bit of everything — it has Mortal Strike for those bosses that had a self heal, it lets you switch to a big 2h weapon (although you don't get 2h Weapon Specialization) in your off hours, it's basically the I'm not going to be the best at anything but I can do anything you need spec. There are variants for players who wanted to do more damage — swapping out Improved Thunder Clap and Hamstring for 2h Weapon Spec, for example.
The Dedicated Offtank — Arms/Protection 31/20. This build still allows for some oomph when you're not tanking but focuses more heavily on tanking, with a full 20 points in Protection for picking up some Defiance and Improved Shield Block. It's still not a main tanking build, but it gives you options for when you're not raiding or running a dungeon and a lot of Warriors used it in classic. You can vary it up by altering how many points you put in Defiance vs. other talents, like this version that gets you Last Stand, which many tanks swore by.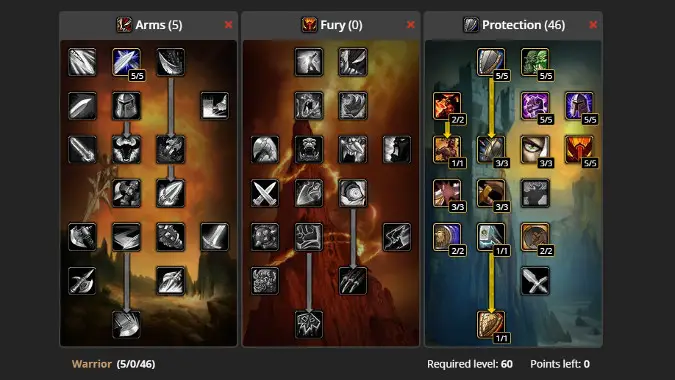 The Main Tank
The Armadillo — Arms/Fury/Prot 11/5/35. This was a main tanking build that basically traded away offense for defense. There were too many variants to list, but the biggest wasn't a variant at all, but was instead this Arms 11/Prot 40 build that traded away the 5 points in Fury for Cruelty with full 1h Weapon Specialization and Improved Taunt. Neither of these builds could generate much DPS — this was purely about threat and survival, and any farming or otherwise playing outside of a dungeon or raid would often require you to spend gold on a respec (no multiple talent specs back then) or to have friends who would come kill stuff while you tanked it.
The Anvil – Protection 51. No, really. This is a build that the first MT in my first raiding guild used, and with it we cleared several realm first kills all the way up to Naxx 40. This build sacrifices pretty much all damage and Deflection over in Arms, which was a hard sell at the time — when I started main tanking I ended up going with a variant Arms 5/Protection 46 build that gave up Improved Taunt and One-Handed Weapon Spec for those 5 points in Deflection. Either way, this is a spec that says I tank, and I don't do anything else without either spending gold or bringing a lot of friends with me. But they have a ton of survival in them.