WoW
Nov 20, 2018 2:00 pm CT
Pilgrim's Bounty isn't WoW's most exciting holiday, but it's a great time to farm rep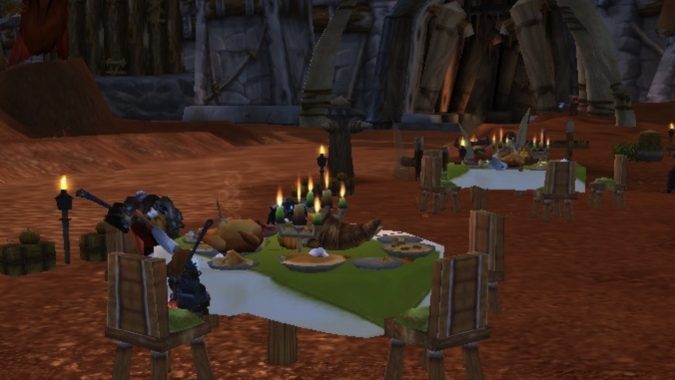 Because I'm traveling at the end of the week, this year's Thanksgiving "feast" at my house will be frozen pizza and beer and whatever looks good when I'm wandering the aisles at the grocery. But Blizzard's homage to the US Thanksgiving holiday has arrived and, well, it's probably another holiday you're ignoring.
Just like last year, there's nothing new. You'll find tables outside all major capital cities and all minor towns with innkeepers. Two neutral locations — Light's Hope Chapel in Eastern Plaguelands and Ruins of Thaurissan in Burning Steppes — have tables. Sitting at them gives you an opportunity to do holiday specific achievements such as my favorite: Food Fight. My inner 5-year-old remembers the fight with peas at Grandpa's and how he laughed while my parents were mortified.
But if you haven't done it before — or haven't collected all the goodies — there are a few activities to consider.
Stock up on reputation gains…
Of note for those of you who are still working on reputations: there's an hour-long 10% reputation buff, The Spirit of Sharing you can pick up for sitting at a table and eating five helpings of each food. You'll need to chair hop to get this and if you find yourself at a table with others, as two people can't occupy the same seat. (I may have tried to do this.)
It stacks with the 14% reputation buff from WoW's 14th anniversary, which makes it the perfect time to farm reputation with any faction. So make note of where the nearest table — unfortunately, there are none in Battle for Azeroth zones, so you'll want to make a trip back to the mainland to pick it up — and remember to use your anniversary item for a buff before you start your reputation grind.
Pilgrim's Bounty runs through November 26, giving you plenty of time to max out your reputations. (I.e. keep helping turtles to water.)
…and transmog…
If you're into transmog, the Pilgrim's Bounty clothing is quite nice. But unfortunately, with the exception of the Pilgrim's Hat, it can't be transmogged outside of the holiday.
…and pets…
There are two battle pets — Plump Turkey and Frightened Bush Chicken — to snag if you don't have them already. The turkey comes from completing all the quests to obtain the Pilgrim achievement while the chicken comes from bag you get after doing daily quests. Once you get the turkey, put down a basic campfire, summon your turkey and watch the result.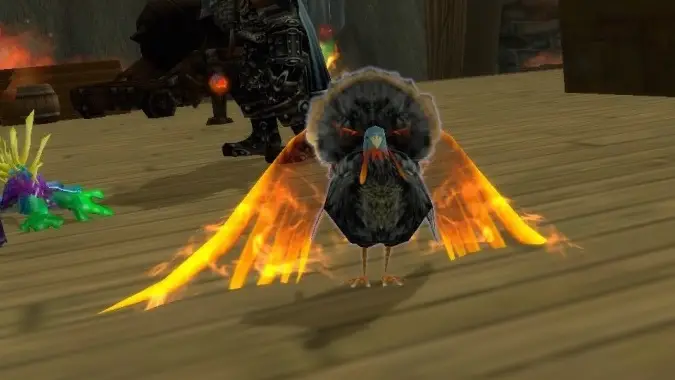 …and toys…
Finally, one of my favorite toys is available during Pilgrim's Bounty: the Silver-Plated Turkey Shooter, which has proven itself to be very reliable in guild events. There is nothing more sinister — or silly — than a bunch of guild members — all turkified — riding down a road.
…but it's still not our favorite holiday.
It's a mildly amusing holiday, but it's also something you can avoid if you don't want to do it. One of my issues is how frustrating it is to do the quests with Undercity and Darnassus in ruins. I know you can find Zidormi and ask her to turn back time but I did those events and kind of want to keep the world as it is now. I could log onto a low level toon — which is what I've done for screenshots — and do the daily quests that way to obtain what I don't have but I would really like to see Blizzard incorporate the changes to the world into the holidays. What if we have to go somewhere else other than Undercity — say, the Bulwark — to finish off the Undercity holiday quests? Or send Alliance to The Sepulcher? Somehow, eating amongst the gravestones seems somewhat appropriate. "Please, Aunt May. No more pie. I'll explode."
So are you going to do anything with Pilgrim's Bounty? Is the Silver-Plated Turkey Shooter a better toy than the Headless Horseman's Hearthstone, which I declared earlier this month was the best toy? Is there a way to make this holiday better? We need a 5-man, don't you think? Will your holiday menu include the same items from the bountiful table?
Maybe next year we'll see those holidays have something different. I can dream, can't I?