Homestand Weekends will add Home games to the Overwatch League for the first time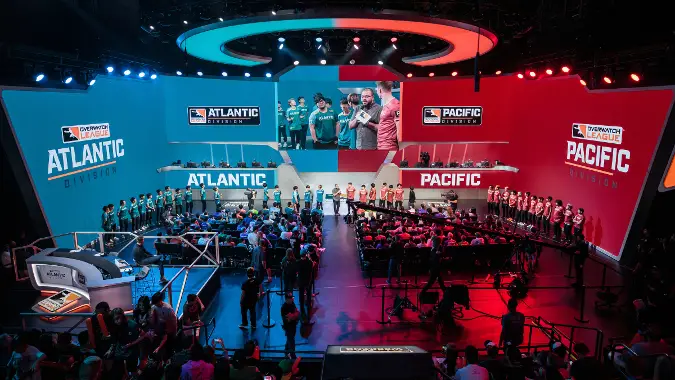 We already covered that players are now able to get both the Home and Away Overwatch League skins and will be able to do so for the new teams as soon as they are available, and that's pretty rad. But we should also mention that the OWL is planning on having actual Home games in 2019, with the Atlanta Reign, Los Angeles Valiant and Dallas Fuel taking part in what are called Homestand Weekend series. These series aren't just as simple as a single team showing up to play an Away game on these teams' home turf — they're two day events with a host of teams taking part on each weekend, playing Away in special locations.
First up will be the Dallas Fuel, who are scheduled to play their Homestand Weekend on April 27 and 28, 2019. They'll be playing against the Chengdu Hunters, Hangzhou Spark, Houston Outlaws, London Spitfire, Paris Eternal, Los Angeles Valiant, and Seoul Dynasty over the course of those two days, in an event the Fuel are calling an Ultimate Weekend. The Fuel are already pre-registering for their Home games, and it should be pretty fascinating to watch so many teams compete over a two day period.
The Atlanta Reign, meanwhile, are scheduled to have their weekend event on July 6th and 7th, and will be hosting the Florida Mayhem, Guangzhou Charge, New York Excelsior, Philadelphia Fusion, Shanghai Dragons, Toronto Defiant, and Washington Justice as part of their series. Finally, on August 24th and 25th the Los Angeles Valiant will be at home against Atlanta Reign, Boston Uprising, Dallas Fuel, Hangzhou Spark, Los Angeles Gladiators, New York Excelsior, Vancouver Titans, San Francisco Shock, and Shanghai Dragons. Neither the Reign nor the Valiant are pre-registering for their series as yet.
This is the first time Overwatch League teams have gotten to host anything like this — time will tell if this is a step towards the League moving to a fully city-based structure with regular home and away games played on a regular basis. I'm really fascinated to see this kind of matchup structure inaugurated in the League and hope we see more Home and Away play in the future.