Wrathgate Remastered gives a face lift to one of WoW's most iconic cinematics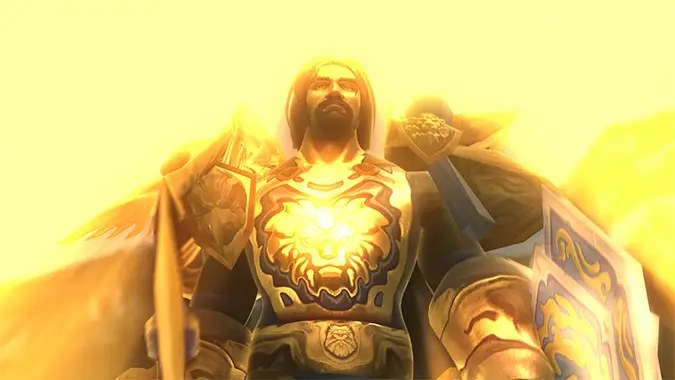 Wrath of the Lich King was one of WoW's defining expansions, expanding the scope of just what the beloved MMO could do. Many of the things we now take for granted in game were introduced in Wrath, including the first iteration of the Group Finder, Heroic difficulties in raids, and the original Pet Journal, just to name a few. But the expansion also introduced the first real in-game cinematic in the Wrathgate, a defining moment that immediately emphasized the severity of what we were up against as players. It sealed the fate of Bolvar Fordragon, Dranosh Saurfang, and the Forsaken as a whole.
In my original review of the expansion, I pointed out the Wrathgate and the cinematics that followed as high points, hoping we'd see more of these types of in-game cinematics in the future. Did we ever! Cinematics are now a pretty common feature in-game, helping to move the story forward at pivotal moments, and kick us in the gut with emotional scenes if need be.
But as the years have passed, those original cinematics haven't exactly held up from a quality standpoint. Oh the scripts, voice acting, music, and stories have held up, don't get me wrong. But the introduction of new character models in Warlords left the old cinematics looking pretty dated, Wrathgate included. YouTuber IKedit has been quietly producing beautiful cinematics for several years now, and introduced a remastered version of the original Zul'Aman trailer six months ago. Today, they went one step further with their first remastered in-game cinematic, turning their attention to the beloved Wrathgate.
When Wrathgate came out, Bolvar Fordragon was still fresh in everyone's minds as the man that battled his way through a mountain of dragons in Stormwind's throne room single-handed. He was a hero, the kind that players aspired to be. His death was the first NPC death in WoW that really hit hard, and smacked us with the idea that in Northrend, nobody was really safe. Not even our beloved heroes. Of course, Bolvar's fate continued to play out, and these days he's sitting on the Frozen Throne…quietly planning whatever his next move happens to be. Are we safe from Bolvar? Are we really safe from the Lich King? Was handing the Helm of Domination over to someone who was nigh-immortal a really good idea? These are all questions still waiting to be answered.
Until then, we've got this absolutely breathtaking cinematic. And to be perfectly honest, if they somehow put this in game, I don't know if I'd be able to tell the difference between it and the cinematic team's other offerings. IKedit isn't employed by Blizzard, but man — maybe they should be. Personally I'd love to see what they could do with Overwatch. Check out the fully remastered cinematic above, and when you're done, go pay IKedit's channel a visit — there's a mountain of other videos to watch, both WoW and non-WoW alike, all equally as stunning.
I'll be over here, watching The Wrathgate Remastered for the umpteenth time and reminiscing about the cinematic that started it all.