Imperius' Heroes of the Storm dance proves the only time he sets the bar low is for limbo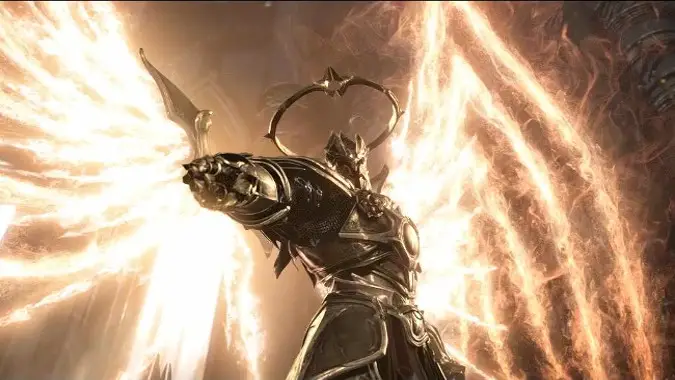 Despite the recent shifting of developers and cancellation of any official esports events, Heroes of the Storm is by no means done putting out content. Case in point: Imperius, Archangel of Valor and latest addition to the Heroes roster hit the PTR last week. We've taken a look at all of his various skins and their tints, and while they're admittedly nothing bad, they're also fairly standard for an angel in the Nexus.
But his dance? His dance is where he really — ahem — shines. See for yourself:
Okay, so maybe I'm making a bigger deal out of this than I need to, but you have to admit, this angel's got some swag. Not only does he make his angelic skewer just float there on its own, he limbos under it in full armor, hips a-movin', like it's nothing.
Just imagine it: You're on the battlefield. A powerful, imposing angel charges at you with wings of light and a righteous aura of flame. The angel then takes his weapon, plunges it through your chest like it's nothing, and holds you up in front of him just because he can. When he finally lets you down, he doesn't kill you — no, he lets you run.
As you run away, your body dares you to turn around, but you resist for as long as you can. Finally, breathlessly, you feel just safe enough — feel you've run just far enough — to turn around and check how much longer your life is safe. At first, you don't see your pursuer — you think he might be hiding nearby, waiting to strike. But then…
Then, you look back to where you first became a human kebob. The angel hasn't moved. In fact, the angel is… doing the limbo?! Yes, with his mighty weapon, he has taken a break to see how low he can, in fact, go. By your estimate, he just cleared the 31-inch mark as though it were nothing.
Your personal best is 36 inches. You've never known a greater defeat.