Just to check in, how are we feeling about Allied Races?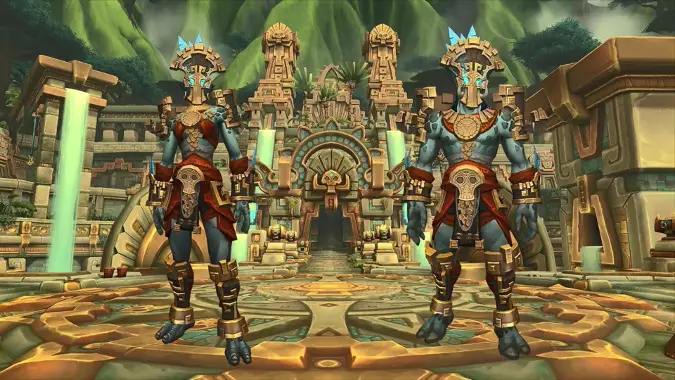 Two new Allied Race options are about to hit in patch 8.1.5, and for many people, it's the two options they've been waiting for. After all, the Zandalari and Kul Tirans represent the two new nations we encounter in Battle for Azeroth. But we've had Allied Races for far longer, starting with the four that were added in the waning days of Legion. So it seems as good a time as any to revisit the idea of Allied Races and ask ourselves: How's it working out?
Typically speaking, new races were an expansion feature in WoW – we usually saw either a new race or a new class added when an expansion came out. Allied Races work a little differently – they don't have their own starting zones, but in exchange for that, you begin at level 20. This means, of course, that you have mounts right off the bat. But it also means you're missing out on what was usually a lot of introductory lore.
I'm kind of two minds in regards to Allied Races right now. I like the multitude of new options, I like the fact that you get a little head start to what has become a lengthy leveling journey. At the same time, I…kind of really miss those alternate starting zones. You really got a feel for what those new races were all about, and they usually had a pretty substantial chunk of story involved.
I guess what worries me is that I'm going to quickly run into the same kind of burnout that hit with Legion's revamp of legendaries. At one point, legendary items were something you worked really hard to earn – they were super rare, and they usually had…well, a pretty substantial chunk of story involved. In Legion, the floodgates were opened, legendary items rained from the skies, and by the end of the expansion I was desperately looking for a way to get rid of the things. Thankfully, you can delete them now.
But in the process of throwing all those legendary items in our direction, they seemed to lose whatever it was that made them appealing to begin with. Legendary items weren't special anymore – heck, you could go purchase them off a vendor by the end of the expansion. That's what concerns me in regards to Allied Races — that we'll see the same kind of over-saturation by the time Battle for Azeroth is over with. The days of extended stories and intriguing new zones will be over, replaced by short scenarios and races that feel less fleshed-out and more like a cosmetic option with some flavor text thrown in.
I don't know, maybe it's just me that's feeling this way. So I turn the question to you guys – how are we feeling about Allied Races as they stand right now? Are there too many options? Do you like the quick intro, begin at level 20 approach, or do you miss the shiny new starting zones? Are you okay with the lack of story, or do you think the introductory scenarios are enough on that front? And are you hoping for a return of new races as an expansion feature, or do you think the Allied Race model should be the new normal moving forward?