WoW
Feb 5, 2019 12:37 pm CT
Method grabs world first Mythic Jaina kill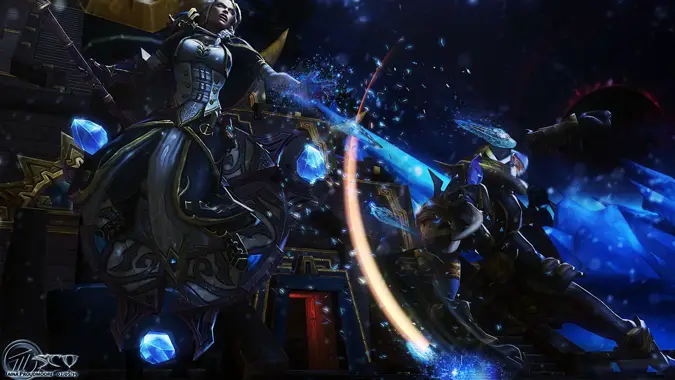 After nearly a week of working on the fight, Method has grabbed the world first kill of Mythic Jaina. The raid has been fraught with issues, from unkillable bugs rendering strats useless until the hotfix, to hotfixes going out mid-fight that accidentally made it harder.
We thought Method might not get the kill, as last night an unintentional hotfix went through that negated the strategy they had been working on. Part of the fight relies on managing the adds that spawn on the boat, and Method had been mind-controlling them with Shadow Priests. Since they can spawn anywhere, even off the boat, this was a clever tactic. For a brief time last night, they were unable to do so, leading to the fear that Method would have to change their strat that had gotten them to single digit percentages. Another unintentional fix also happened when Method first got to Jaina — an overnight adjustment increased the debuff stacks that players gain in transition, which was shortly reverted as well.
You can check out the full kill video from Twitch and their raid composition on Method's site. Here is the winning clip.
Congratulations @Methodgg on world first completion of Mythic Battle of Dazar'alor. pic.twitter.com/WUDayPSXXd

— World of Warcraft (@Warcraft) February 5, 2019
It has been a close race with Limit, who went hardcore this tier with the intention of getting the world first kill that slipped out of their grasp in Uldir. So hardcore, in fact, that they didn't blink at spending 10-15 million gold to race change to Alliance and back in order to nab some extra gear. Today was reset day for North America, but Europe's weekly reset isn't until Wednesday morning. If the EU-based Method didn't get the kill today, they might have lost the chance after a fresh re-clear from NA's Limit.
The Mythic race this tier has been particularly interesting. Guilds quickly cleared most of the raid, becoming stuck on the last several fights. Mekkatorque and Stormwall Blockade were the bottlenecks. What's interesting with this race is that while it only took a week for the world first kill, 33 guilds had made it to Mythic Jaina by the time Method won. It may not have taken several re-clears for the kill, but Jaina is also a tough fight. This marks the fourth world first in a row for Method, in a long history of playing at the top. Many congratulations to Method!